Casambi Pro Beta Preview
Would you like to play a part in shaping the next big thing?
Test-drive Casambi Pro – a new concept for commissioning and managing complex lighting projects. It introduces a smarter way of working and has been designed to save on the most valuable resource of all, time.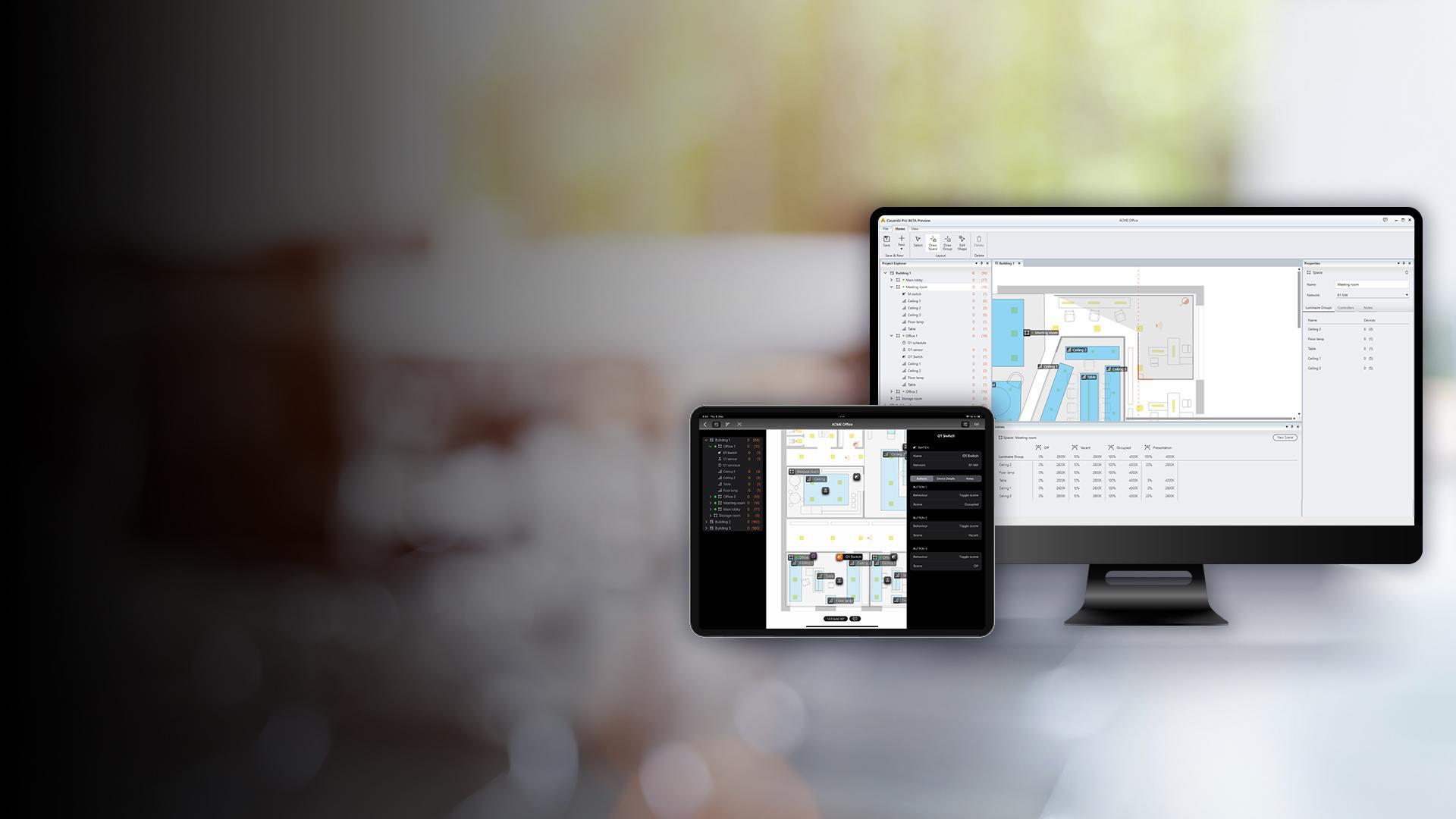 A new tool for pre-configuration and rapid commissioning
Casambi Pro is a free planning and commissioning tool designed to simplify the process of configuring lighting controls. It's been designed for commissioning engineers and partners who are all too familiar with the lengthy technical configuration processes that can apply to large lighting projects.
It speeds up project configuration by allowing most of the programming to be done offsite, giving you more control over the final outcome. Settings are then uploaded via Bluetooth to the physical devices onsite.
Widely disperse complex and sophisticated controls in an easy, user-centric fashion with Casambi Pro.
The Beta Preview version of Casambi Pro is now available.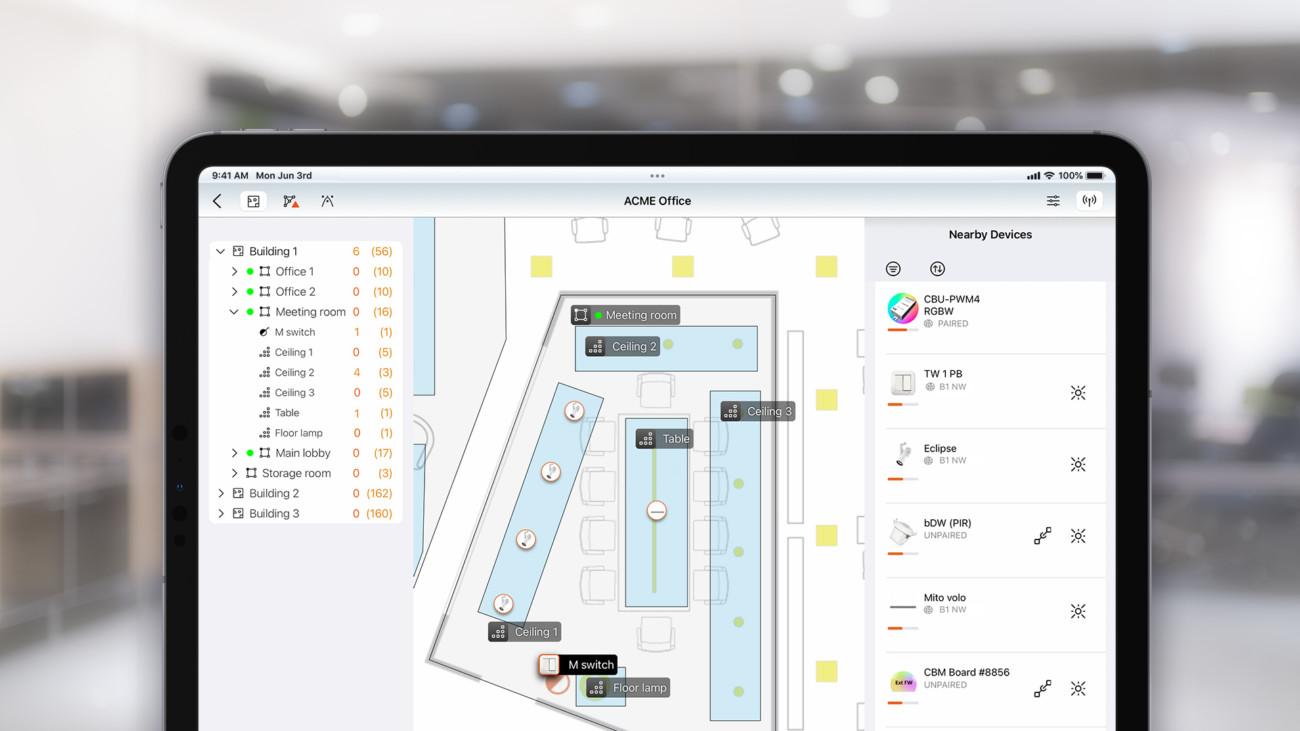 Designed for lighting professionals
To simplify pre-configuration and commissioning of large Casambi-enabled systems.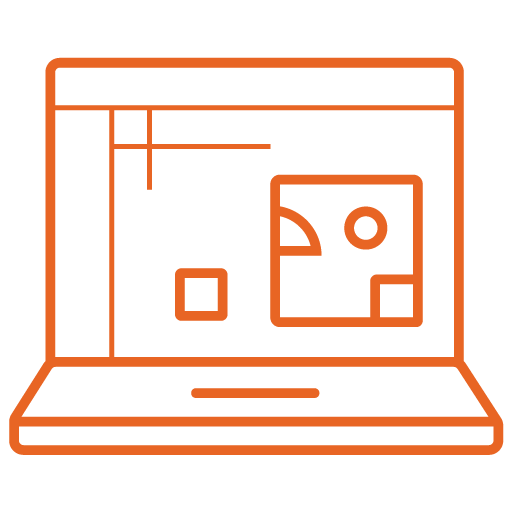 Offsite configuration in Windows
Create configurations in advance with the Windows tool (currently available for Windows PCs only) without the need to access real devices and networks.

Commission lighting from an iPad
The iPad is a great onsite companion. Commissioning engineers can effortlessly scroll through visual designs and floor plans to identify devices for pairing.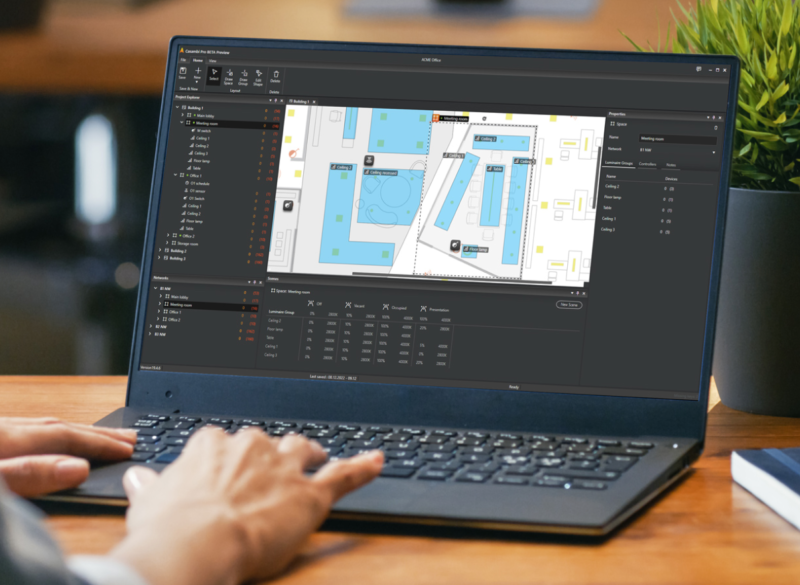 How does it work?
Casambi Pro offers a new way of creating Casambi-enabled lighting systems and is mostly targeted at large, automated lighting systems for which it is now possible to create configurations offline with a PC application. Networks and control structures are configured offline with the PC tool (Windows 10 & 11). Commissioning is completed on Apple iPad.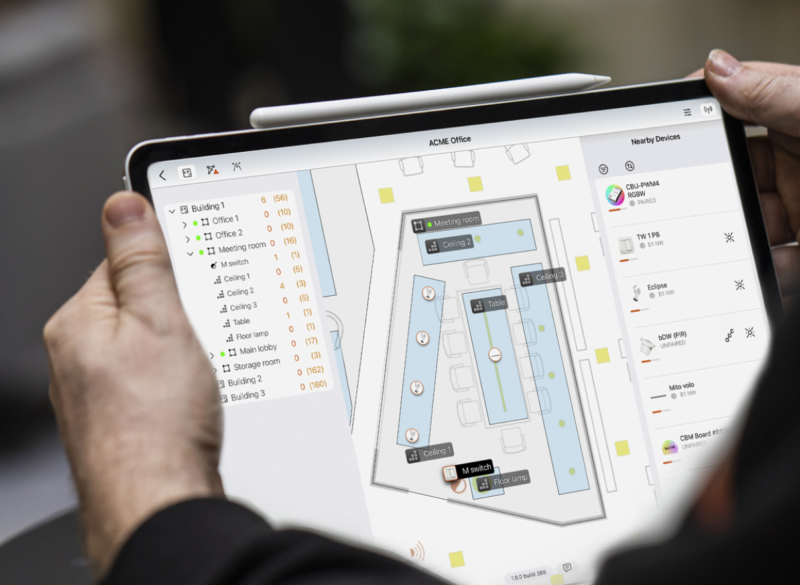 Get visual in user-driven software
Casambi Pro is about implementing visual thinking. When visuals are involved, there's greater clarity and little-to-no room for misinterpretation. Simply upload your floor plan and design every detail within it. You are not limited to programming a single network at a time and can create placeholders for all the desired controllers and networks.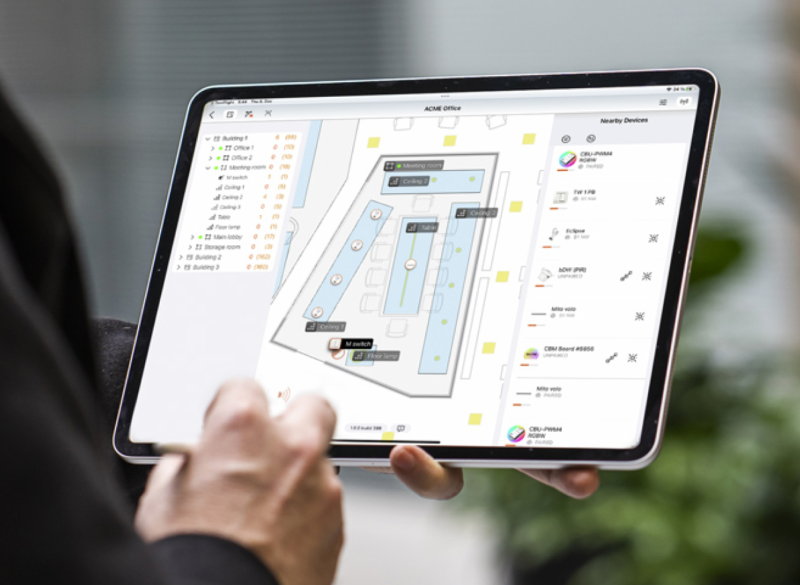 From virtual to real-world in one move
When the offline configuration is completed, uploading this to the products onsite is a simple matter. Devices can simply be identified and dropped into their group in the software workspace and any placeholders can be replaced with the actual devices. These devices are then automatically configured as per the pre-planned settings.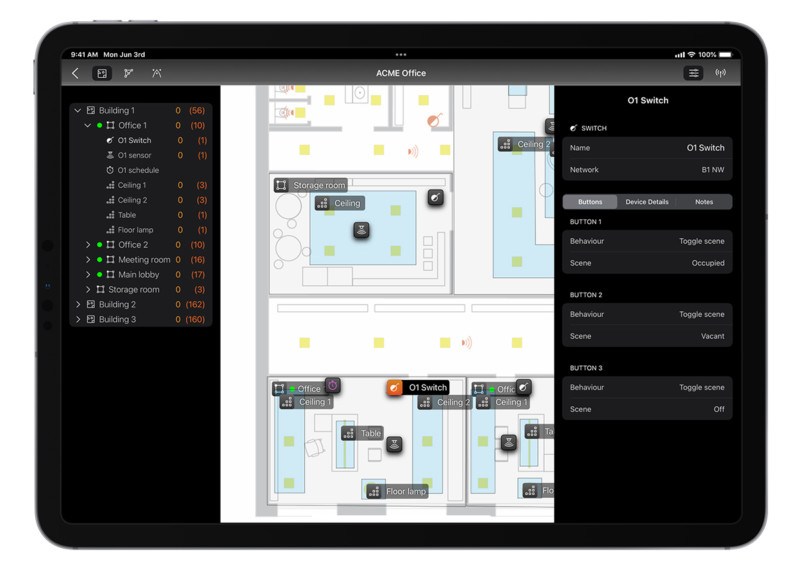 About the Beta
We'd love it if Casambi Pro one day became the everything app for lighting. To get it there, we need your input. We're providing a publicly available Beta version with limited functionality – it is not yet production-ready. This test version is gathering critical feedback on customers' reactions to the tool, and how they engage with it. And this feedback will inform further iterations on the solution.
Be the first to interact with Casambi Pro and directly influence its development.
What is a Beta Preview program?
A Beta Preview program is carried out after a new product has been built, but before it is commercially launched. It provides an opportunity to test the efficacy of the solution in a safe environment and highlight any areas requiring further iterations before it is fully launched to the public.
Join the Casambi Pro Beta Preview testing program
Help us to make the upcoming public release awesome. Everything you need to know about the Casambi Pro Beta program can be found here: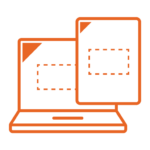 Get your hands on Casambi Pro Beta Preview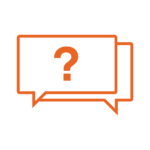 Get clued up on all things Casambi Pro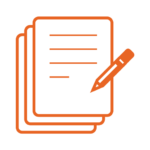 Learn what's in, what's out, what's changing in the latest Beta releases