Getting to know a Casambi luminaire manufacturer – Ambright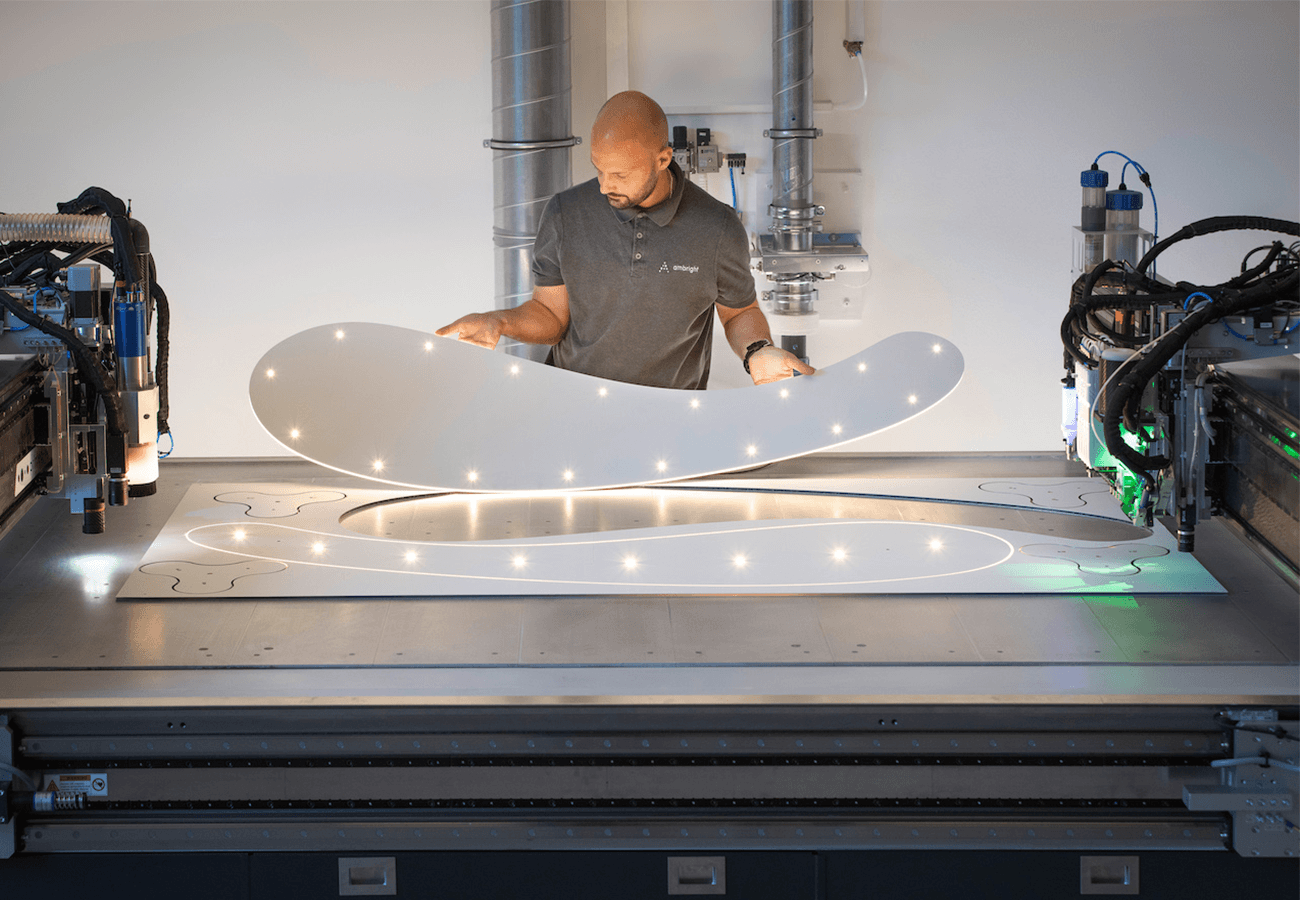 Ambright's patented 'printed light' now makes it possible to industrially manufacture individually designed premium luminaires.
Munich-based lighting tech pioneer Ambright GmbH is now making its patented printed-light process available to users in the fields of architecture, interior design and lighting design. With the newly developed truly freeform configurator it is now possible to design luminaries using a tool online and have them produced by Ambright using printed light.
Printed light
With 'printed-light' technology, LEDs are freed from their rigid placement on a circuit board. Each light source can now be individually positioned, creating unique designs tailored to the respective lighting and spatial requirements. In this way, luminaires can complement the shapes of their environment and surrounding or become a new contrasting design themselves.
Dr. Florian Ilchmann, Managing Partner of Ambright GmbH explains: "In several years of research and development, our team of engineers has developed a worldwide unique process of printing light automatically with extreme precision. With the production system 'Candela', we have created the first digitally supported light tailoring – a true technological revolution in the lighting industry. In this way, we are taking up a guiding principle of the Industry 4.0: Batch size one combined with a high degree of individualization – at the economic conditions of large-scale production."
Individual designs
Instead of using preset shapes, architects and designers can now turn their ideas into custom shaped luminaires and set light sources within the Ambright configuration tool with a click of a mouse. Drawing aids and an import option for existing sketches are also available to assist in drafting completely online.
This way, it only takes a few minutes to create an individually shaped luminaire, while still maintaining the ability to 100% control the light distribution for an individual design and style. All corresponding light data of the luminaire are calculated and displayed instantly.
As the first configurator on the market, Ambright's 'LightSketch' not only visualizes the custom designed luminaire in 3D, but also provides all specific technical information – such as dimensions, light distribution curves, lumen output, color rendering, efficiency, price and delivery time.
Technical parameters
Each 'SparkShape' – as Ambright calls its luminaires produced by printed light – can have up to three separately selectable and controllable light components that can be used to create an individual lighting mood: Perfectly deglared downlights, intense bright uplights and the striking light from the patented illuminated edge itself. All three SparkShapes' light components can be dimmed individually using the Casambi control app.
Casambi's CBM module is seamlessly integrated in every SparkShape requiring dimming control for the 3 different lighting parts indirect, direct, and illuminated edge. It perfectly suits the technical and design specific requirements for creating a lighting fixture with only small height and reducing the necessary number of cables and suspensions to its minimum. Furthermore the Bluetooth mesh functionality and Casambi smartphone application allows quick and reliable mobile control for setting the perfect scenery especially when several lighting fixtures are combined which takes significantly more time to come by with traditional control devices like wall panels.
The luminaire's shape can be designed with a maximum footprint of up to 250 x 125 cm². The luminaire is just 6 mm thin and is one of the few to utilize the full scope of design of state-of-the-art LEDs. Currently, there are 23 selectable surface colors to choose from. The LEDs of the SparkShape luminaire can be selected from three color temperatures: 2700K, 3000K and 4000K. The color rendering is quite impressive with an outstanding CRI value of up to 98.