Casambi Design Story: K-array on the intimate connection between sound and light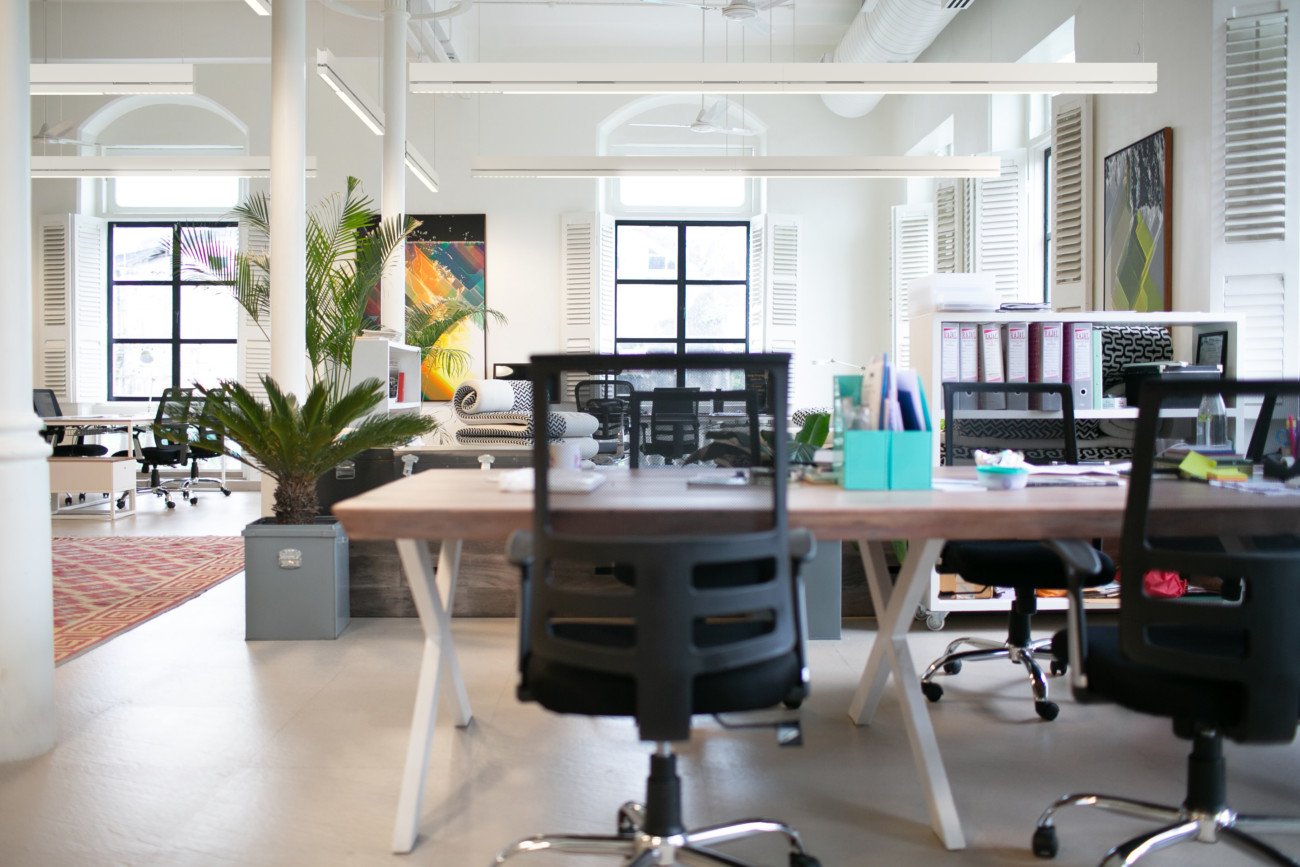 K-array's conscious decision to merge audio with luminaire design proved a game-changer for architects in pursuit of a sublime sensory experience. Tom Riby, Global Sales & Marketing Manager at K-array on the birth of RAIL, their first luminaire that offers a powerful blend of architectural light and professional sound.
K-array is a 30-year-old audio manufacturer from Italy. They started off in the live touring market creating speakers for concerts before carving out a unique niche for themselves, offering compact designs that are lighter and require less transportation. Their design philosophy has since remained centered around miniaturization and simplified construction.
Over the last 15 years, they've moved into the architectural sector offering micro line array technology – essentially speakers no larger than your thumb that have incredible sound pressure to surprise and delight people. Such discrete technology is especially popular in the hospitality sector where architects and designers seek to minimize clutter in favor of clean interior design.
Offering block customization and a variety of premium metal finishes, this part of the business grew exponentially and before they knew it, K-array found themselves stepping into the lighting game. The architect's pursuit of clean ceiling space compelled K-array to investigate this crossover.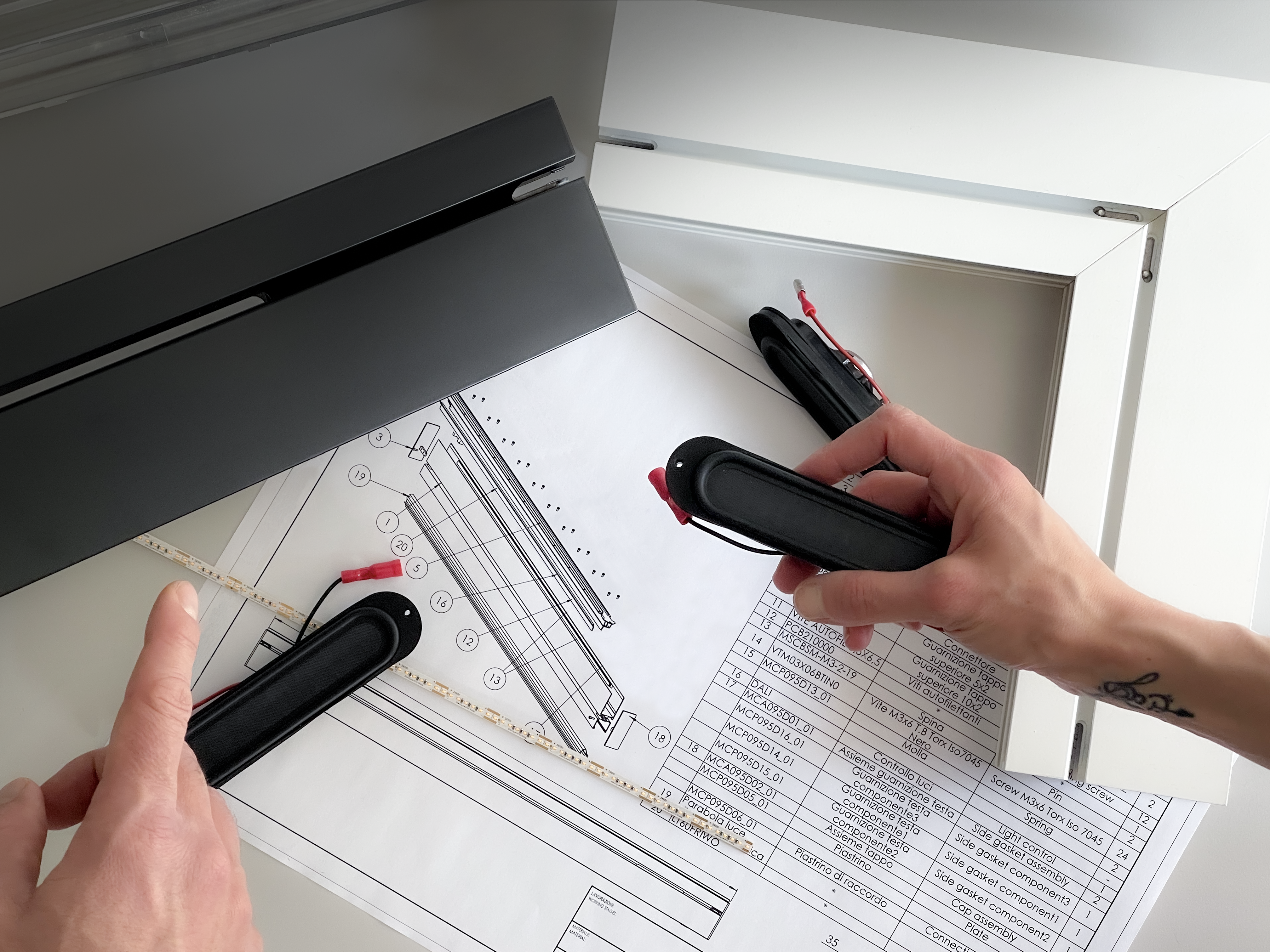 Seeing Sense
'We started to explore not the lighting market per se, but the smart technology market. This is because we saw increasing attention on the ceiling space, which was becoming a big battleground for brands and companies. Rather than clutter this space with a vast array of smart devices, it made sense for us to consolidate here' says Tom Riby, Global Sales & Marketing Manager at K-array
'K-array's CEO & president, Alessandro Tatini is very involved in every design. He's very R&D focused and foresaw the need to put speakers into a linear light. And so, we developed a product with high-quality LED, working with leading consultants [Nichia] to perfect it.'
The K-array RAIL was born. Sleek and simple in design, the aluminum RAIL measures 1.2m (4 feet) long, comes in many colors to match any décor, and is available in a variety of optics such as Symmetric, Asymmetric, Diffused or Electrified Track 24V with projectors. She can be mounted as suspended, recessed, appliqué or plafond. You can also add an indirect optic for suspended mounting.
As a Casambi Ready fixture, the RAIL can be remotely controlled from a smart device to offer Tunable White from 2700 – 5000k and RGBW. Audio is controlled using a K-array amplifier which is also controllable via Bluetooth.
'The sound itself is something quite unique' says Tom, 'because it doesn't offer a typical ceiling speaker sound. It's a sound that comes out of the side of the rail luminaire to create a covering effect that essentially hugs you. This means you get consistent sounds wherever you are within a room… so it's not like a showering effect that you get with most leading speakers in every space'.
The "shower effect" occurs when sound waves from multiple speakers interfere with each other, creating a jumbled and uneven listening experience. With a linear sound system like this one, the loudspeakers are arranged in a line or an array, which allows for more precise control of the sound waves' directionality and dispersion. Because the sound waves are more effectively diffused throughout the room, you don't need to turn up the volume as high as you would with multiple-point sources. You can achieve uniform coverage with fewer speakers, which can help to simplify the setup process and reduce costs.
As audio specialists, video conferencing rooms – where sound is absolutely essential – have been K-array's bread and butter. This is a space dominated by AV integrators and lighting designers are oftentimes considered second. But this dynamic, says Tom, is changing, and that's why they approached Casambi.
'People don't want to see wires in their meeting rooms anymore. People don't want to see the mess. So, it made sense to align both the speaker and the light. The luminaire can be suspended or flush mounted. To complement that clean design, Casambi allowed us to remove the lighting control wires. Some system integrators don't know how to use DALI and so Casambi made it a very professional, easy-to-use product – very plug-and-play'.
'We see huge market potential for merging two technologies together. Initially, it was argued that you simply can't pit the lighting guys against the audio guys. But if you listen to the client – they want a single, unified offering, not two separate ones. One control device from which to control the lighting, the audio and tap into your Spotify account if requested too.'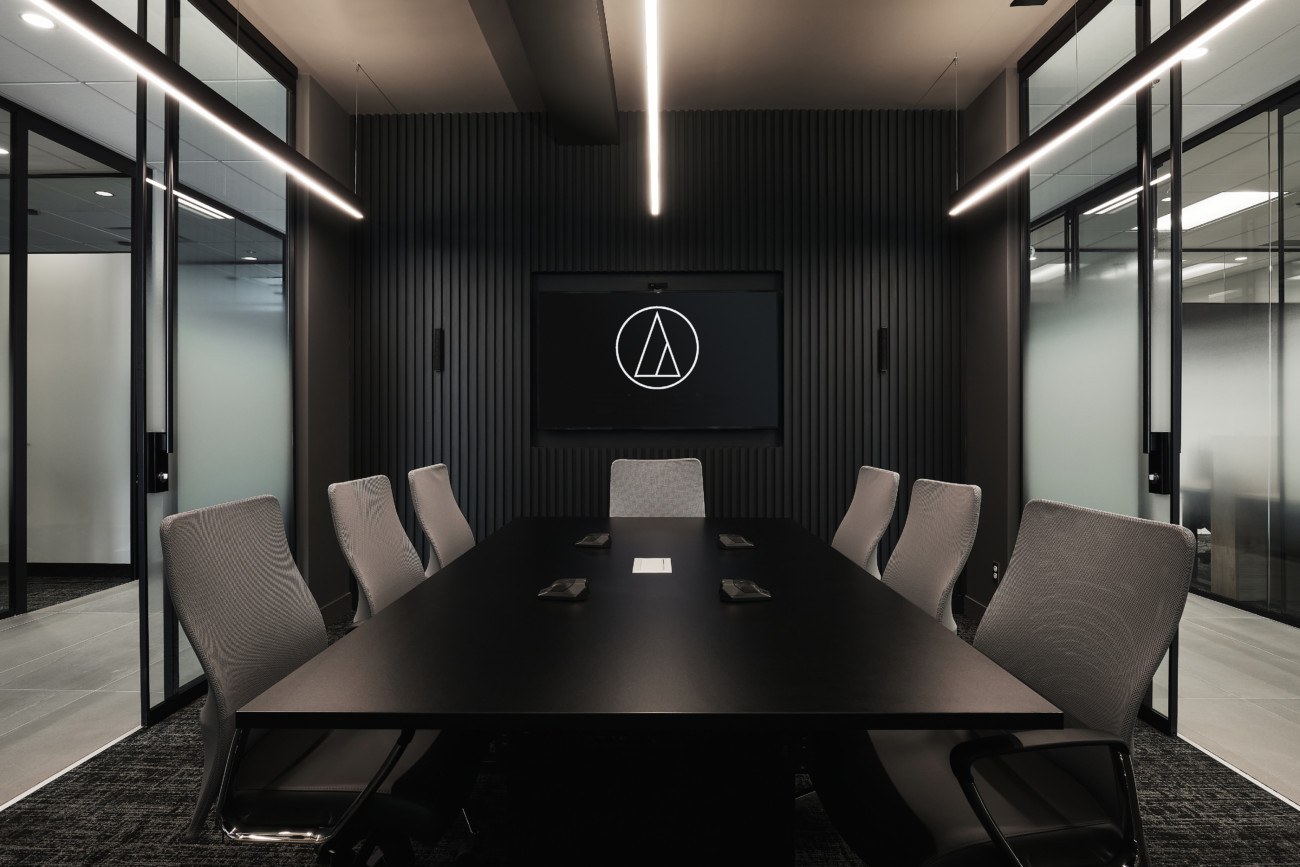 Integrating Casambi and the benefits of convergence
According to Tom, designing Casambi into the luminaire itself was straightforward.
'Because the luminaire is very compact in design, it made sense for us to custom-make our own Casambi module. So, we decided to integrate the Casambi CBM chip into the PCB within the luminaire. This proved to be a good move because the interaction with the external microcontroller is much better via this module than using external devices. Using Casambi's Extension Interface the K-array team was able to customize the functionality and define the interactions from the outset'.

Tom explains that the combination of audio and light into one high-quality wireless solution also means they've created a more streamlined service for project design, installation and maintenance. K-array conducted a simulation of RAIL (comparing the product to a scalable solution of ceiling speakers and separate comparable light fixtures), which proved significant savings on wiring, shipping, labor and production costs. According to their calculations, it's 35% more energy efficient, reduces production costs by 25% and reduces wiring/labor costs by 52%.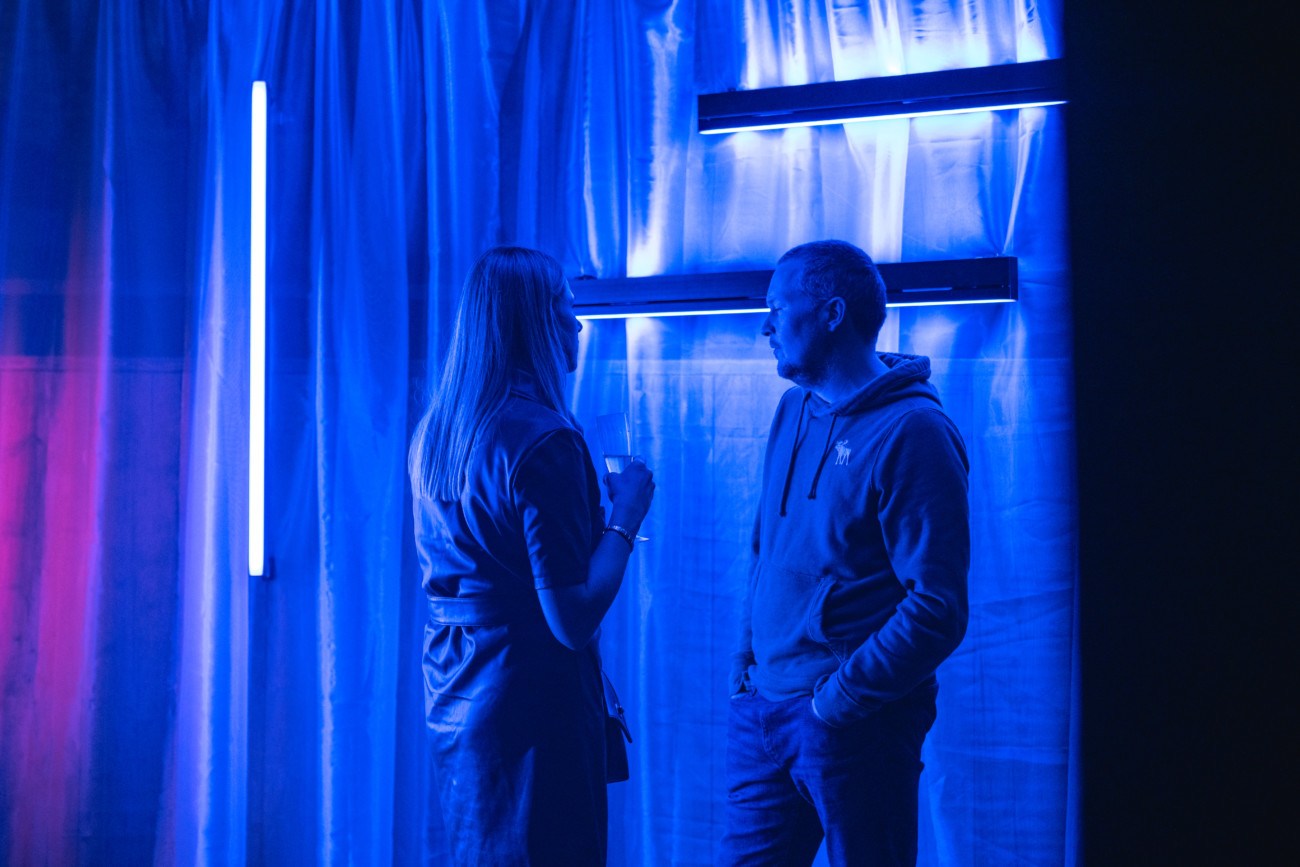 Vitalizing qualities of light and sound
How you experience an office space dictates whether or not you want to return to it. In fact, it can impact employee turnover and thus profitability in some cases. If we can master audio and visual stimulus to bring more contentment to the workplace, everyone benefits. It opens up a whole new world that only further expands when we start talking about all the senses.
As one example, K-array was commissioned by JLL Singapore to revamp their CapitaSpring office. This is a progressive workplace that has a measurement rule they call the 'anxiety rating'. On a scale of 1-10, meeting rooms are rated based on clutter, ease of use of space, etc. K-array installed a simplified control system that meant office occupants could press a button and the surrounding technology is automatically activated to serve their needs – be it a video conference call or something else.
This office space has received Well platinum certification, and Tom attributes their approach to tech integration as a small yet significant contributor to this achievement.
'Merging these two technologies [light and sound] together not only reduces energy consumption and wiring labor costs. But the intrinsic wellness factor is also significant. The RAIL offers tunable white and RGBW for changing the mood as aligned with Human Centric Lighting theories. Sound also influences well-being. K-array offers adaptive AI-generated soundscapes that improve cognitive functioning by removing stifling silence, masking the flutter of aircon, and absorbing intrusive conversations that can distract workers in an open office'.
RAIL is such a versatile product that it lends itself perfectly to other applications beyond the office space too. Despite its industrial design, the product is proving popular in museum settings and residential projects too. The next step on the K-array roadmap involves outdoor applications.
K-array has 72 distributors around the world and two subsidiaries in the US and in China. For more info on the RAIL: RAIL – Casambi
Interested in learning more about Casambi? Drop us a note, and we'll reach out to you: