Getting to know a Casambi component manufacturer – AIMOTION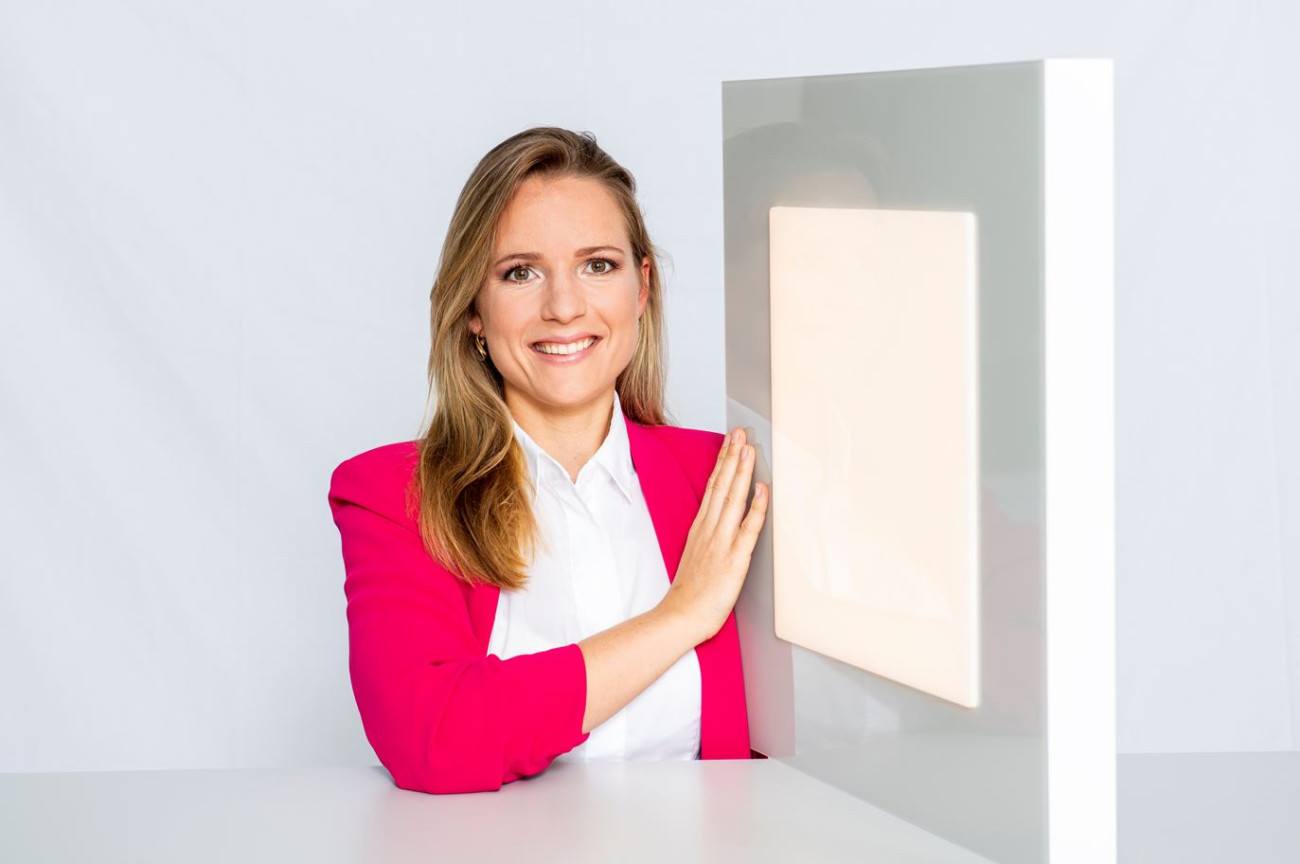 From the very beginning, AIMOTION developed close ties with Casambi's development team. And this collaboration has helped them to deliver software solutions and Casambi Ready products that directly answer their customers' needs. Co-founder, Aileen Herpell explains the company's mantra and its approach to building out a successful business.
First off… to suggest that AIMOTION is a component manufacturer is to tell only half the story. Founded in 2015 by Aileen Herpell and Timo Lühmann, the Hamburg-based company has grown from a designer of bespoke networked sound and lighting systems (of which the likes of famous footballers commissioned) into a full-service provider for all wireless lighting needs. They offer consultation, hardware and programming.
Built entirely on Casambi technology, AIMOTION components and expertise have been embedded in the smartest of buildings. Their portfolio holds an impressive selection of lighting projects spanning centuries-old churches and museum spaces to high-tech offices and modern retail spaces housing the finest of luxury wares. As early adopters of Casambi, our relationship with Aileen and Timo runs deep.
'I have fond memories of attending the Light+Building trade fair back in 2016 when the Casambi booth was relatively small,' says Aileen. 'Timo and Elena [referring to Casambi's co-founders] were there with the newly launched Xpress switch, which we subsequently promoted on our booth too. Since then, AIMOTION has grown alongside Casambi – evolving the technology and improving the usability as we go. I feel like we were pioneers at the time, bringing the technology to Germany and then internationally. We saw a future with Casambi, and our predictions that the company would grow to become a market leader proved right'.
From the beginning, Aileen and Timo developed close ties with Casambi's development team. And this collaboration has helped them to deliver software solutions and Casambi Ready products that directly answer the needs of AIMOTION's customers. Aileen explains that the company's mantra is predicated on listening – and always trying to think one step ahead of the customers' intentions. This often results in optimized product functions:
'We're often inspired by our customers' ideas and driven to bring these to life or even further beyond the customers' own expectations. In this respect, AIMOTION is really a value-added partner of the Casambi Ecosystem. Our knowledge extends beyond product development into the realms of consultation – helping customers to realize their lighting projects, from product selection to commissioning, and programming onsite to aftersales support.'
According to Aileen, they work with a number of luminaire manufacturers who wish to sell Casambi Ready luminaires but not commission them. Hence AIMOTION provides support across the lifecycle of a product; from educating and consulting a luminaire manufacturer as they decide to integrate Casambi into their products, to delivering a lighting project in which their products are specified.
Today, Casambi is widely accepted as a de facto standard. And this is largely down to partners like AIMOTION who have helped us to promote it. In fact, Aileen and Timo were the first to attend Casambi's training and C4 certification program when it was introduced in 2019.
'Lighting is a relationship business and gaining trust in new technology requires a lot of hard work. It took us seven years of 24/7 effort. We've made ourselves available to support customers throughout their transition from wired to wireless solutions and day-to-day use,' says Aileen. 'In all these years we gathered so much experience and know-how that we now are able to come up with the best solutions for our customers. And if not, we will develop them.'
For AIMOTION, explains Aileen, 2021 marked an inflection point. 'There's been a big shift and the uptake of wireless has really taken off. The people who were used to doing things in a certain way are finally opening up to the ways of wireless. It certainly coincides with all this uncertainty in the world. The energy crisis and the pandemic have to a large extent catalyzed the change as people seek cost-effective smart building solutions with remote possibilities.'
The Terrace in Berlin is a shining example of AIMOTION's ability to deliver lighting with a smart edge. A striking new office space on the river Spree, The Terrace is equipped with fully automated building control. Aileen explains:
'This project is a great example of a client who went all-in with us. No switches… all sensors. We deployed the iBeacon function to enable access control and indoor navigation via a cell phone. Once you enter the car park, the iBeacon connects to your cell phone and the elevator is automatically called and takes you to your floor. The system is in tune with the occupant from the moment he or she enters the premises.'
'We integrated Casambi using the API. This ensured that the occupants of the building could enjoy the benefits of Casambi in a way that worked seamlessly with the other technologies installed within the space. For example, the Casambi App is used to control all the lights in the building. But if an occupant wishes to change the lights in a particular room, they don't necessarily want to scroll through 1000+ lights in the Casambi App. By using iBeacons and integrating Casambi via the API, only the lights in the room you're occupying appear in the control user interface'.
Another great example is LUI House, an award-winning contemporary and sustainable office space in Herford, Germany. According to Aileen, what constitutes the perfect workplace in today's society, in terms of technology augmenting working life, is invisibility.
'The smartness is inside the luminaire. You don't see it, but you feel the great atmosphere it creates. LUI house is a great example of this. The architect's aim was to work with the best materials and brands and the latest technology to deliver a seamless, integrated experience. In outstanding projects like these, the real estate developers we're working with are seeking integrated solutions and partners to support them. Seldom are they seeking standard solutions.'
'In LUI House, a tablet was installed in the entrance area of each floor as a control center. If, for example, you have an event on one floor, you can control the lighting and air-conditioning in a way that the event floor switches to event scene lighting and appropriate air-conditioning intensity. At the same time, a touch of only one button on the tablet reduces lights and air-conditioning on all other floors while not needed. Connecting the air-conditioning system to the Casambi environment was made possible by installing switching actuators. Instead of connecting the floors' air-conditioning with cables, we made them communicate wirelessly. This was a good example of a smart way to retrofit the technique without expensive cable installation.'
Aileen confesses that seeking to stand out amongst the big-tech-player crowd was not easy at first. She explains that they have the agility and capability to play in the same league as the big players, but that it took time to anchor their name in the sector and to make themselves visible in the market. However, as a formidable woman who spends her weekends mountain biking in the Alps or Dolomites, she explains that an individualized approach to conquering the business mountain is key:
'We're growing the team, educating our own people, and always thinking about new products. AIMOTION is a young company. When you're surrounded by big players, you have to be creative and flexible. Our advantage is that we can react to customers' needs as well as changes in the market very quickly. For example, we were among the first companies to bring Casambi Ecosystems to the market. Our success has been based on the combination of listening to our customers and coming up with very good ideas to specifically answer their needs. Our products are not only sold into projects (via us or our international sales network), but we bring our knowledge to the project itself – always helping customers to get the best out of the products.'
Interested in learning more about Casambi and joining our ecosystem? Drop us a note, and we'll reach out to you: