6 Buttons AC Input Wireless In-Wall Switch ATOM Series
Featuring modern wireless technologies and added features, the ATOM Wireless Wall-mount Switch has been designed to substitute standard in-wall on/off switches. Powered by utility, this switch comes with adjustable scene settings.
This mechanical and electrical sound design is capable of providing multi-functions and allow wirelessly control lighting devices in various platforms. This is a must have components to excel user experiences in the Casambi wireless environment.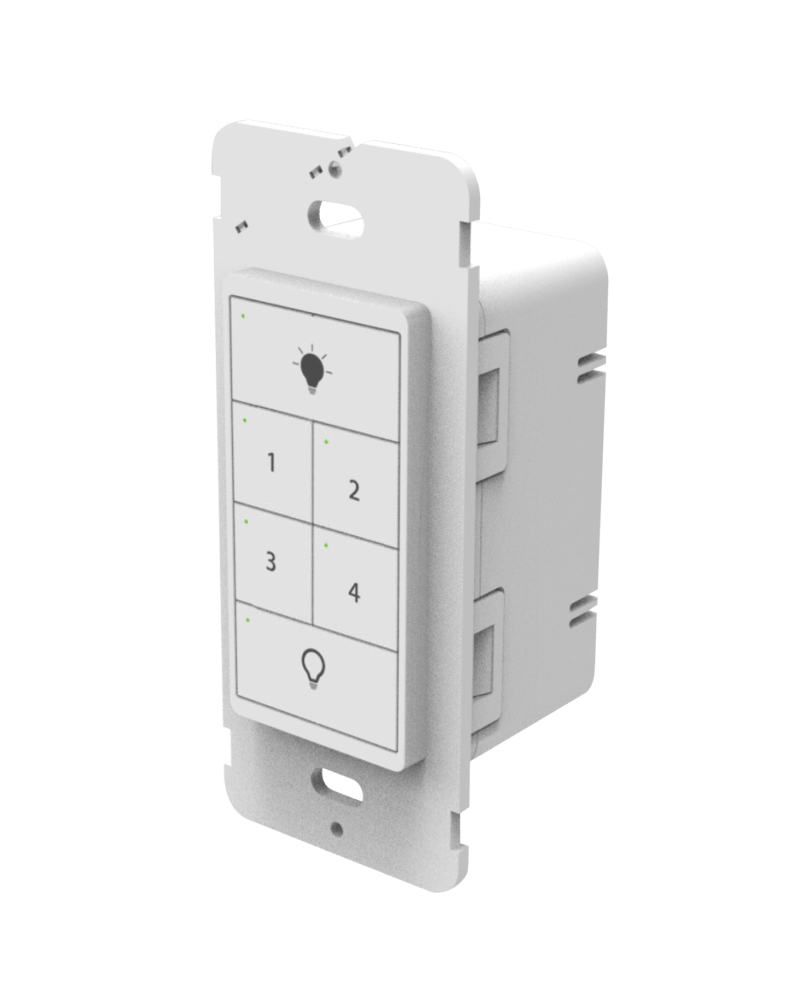 Featutures
Best low power load support, no bypass part or low power light adapter required
Default local circuit operate and do not require system control
20dBm 2.4G for long range communication
Power failure memory to return to its previous set level prior to the interruption of power
Compatible to designer style wall plates or standard off-the-shelve wall plates
Fit in 1-gang U.S. wall box
2 1/2″ minimum depth recommended
Non-neutral design make installation easier (ZigBee only)
Available color – white
Face plate color (Optional)
A1 Dark Chocolate
A2 Warm Caramel
A3 Moon Rock
A4 Silver Gray
A5 Pebble Gray
Technical Detals
Input: 110 ~ 277VAC/47-63Hz
Relay switching capability: 5A/120VAC
3A/277VAC
Operating Environment: 0 – 50 Deg.C
Radio Properties: 2.4GHz
20dBm transfer power
Internal Antenna: Built-in
Controls: 4 to 8 buttons for on/off
dim
scene selection
Dimensions: 44.40 x 33.20 x 105mm (L x W x H)