Adquio Cloud
Modern and safe platform to study and control all your facilities. It allows the management of clients, and each one of them with all their facilities, ordered by countries, regions, types of company, etc. real-time SCADA control of all facilities, rich charts, interactive reports, remote access to Adquio on your facilities, all integrated on the same platform.
Adquio products connect with Casambi API, and collect all the facility information. Upload all data in real time to Adquio Cloud and allow you to control all aspects of your facility thru SCADA pages, rich charts, reports, a much more.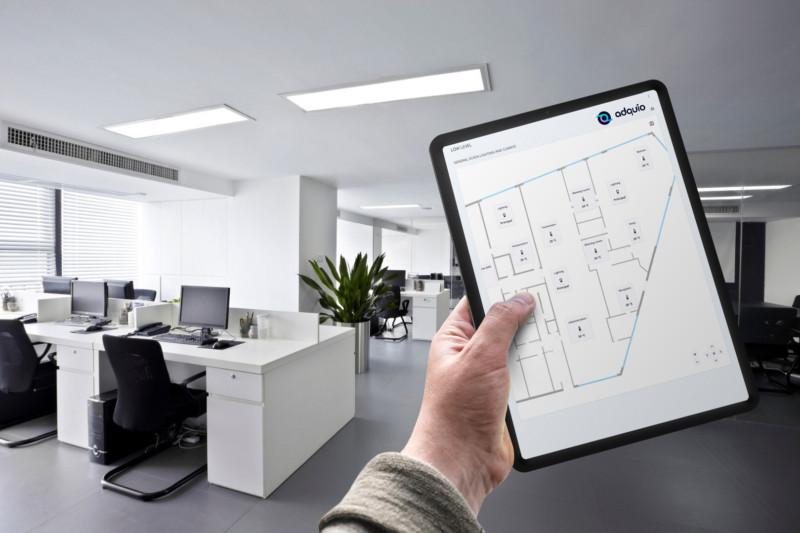 Complete control and safe study of all your facilities
Adquio Cloud is a web platform that allows you to get the most out of your facilities, with attractive historical graphics, remote control through SCADA, interactive and automatic reports, and also fully customizable to suit you.
Organize all the information of your installation: You will be able to structure and standardize infinity of data in a friendly graphical environment in which to manage your organization.
Control of variables: from air conditioning systems, lighting, energy consumption, capacity management, air quality
Control of energy indicators: consumption / occupation, consumption / production
Statistical quality control: reports, correlations
Functional analysis, predictions, capacity indices
Control and manage your system remotely
You will be able to make decisions and manage your facilities anywhere in the world thanks to real-time supervision and control
You will have all the facilities and systems integrated in a single application, which allows global management and remote control to achieve fast and efficient management.
You will have a SCADA type display facilitating interaction with the facility
You will be able to see the data of your facility updated in real time
Connect safely to your facilities
Safe design that guarantees data collection and recording, avoiding external intrusions
Communication under encrypted connections between facilities and servers
Use of roles associated with each user to manage the permissions of the different functionalities of the platform
Use of secure https protocol
Statistical quality management
You will have the latest generation tools to guarantee the quality of the results of the control, maintenance and management of the energy efficiency of your installation
Check the consumption and thermal comfort of your facilities
Detection and notification of system alarms
Uni and multivariate control charts
Identification and monitoring of energy efficiency indexes
Tailored to your needs
You will enjoy the advantages of a customized platform for you
We will adapt the platform to suit your needs, deciding which components are necessary and which are not, as well as their arrangement in the application.
All the experience and knowledge of our team at your disposal
Our team of professionals will be able to help you wherever you are and at all levels, from design and installation to scientific data analysis, through management and maintenance.
Training videos of all the sections of Acquisition and Acquisition Cloud
Contents in constant evolution so that you are always up to date with the latest news and know how to use them
Support system through tickets, for a fast, effective and documented response.