CAS-UNI-NEMA-5P-010DA-RL-LX
CAS-UNI-NEMA-5P-010DA-RL-LX is one of OLFER Casambi outdoor control nodes.
This type is compatible with NEMA 81mm sockets (ANSI C136-41) and enables easy autonomous control and dimming of DALI, 0-10V and 1-10V devices (drivers, electronic ballasts, etc.).
It is provided with an IP66, UV resistant, IK09 enclosure.
Electrical connection and mechanical fixing are done by twist and lock, without tools.
Main use is control of outdoor lighting applications. By use of CASAMBI APP it is possible to group the luminaries by streets or areas, set dimming levels based on the time, schedule special events for specific dates, etc. Remote control of the installation is also possible through the cloud by use of an internet connected device with Casambi App set up as gateway.
Communication range between control units is up to 70m outdoors without obstacles (BLE4), and can be over 200m in BLE5 Long range type nets. Adding the control units to a net must be done individually with a mobile phone or tablet within range of each unit. For further installation setup and programming it is only necessary to be within the range of one of the control units.
Diverse operating modes are possible (on/off, dimming 0-100%, circadian control, tunable white, RGB, RGBW, etc.).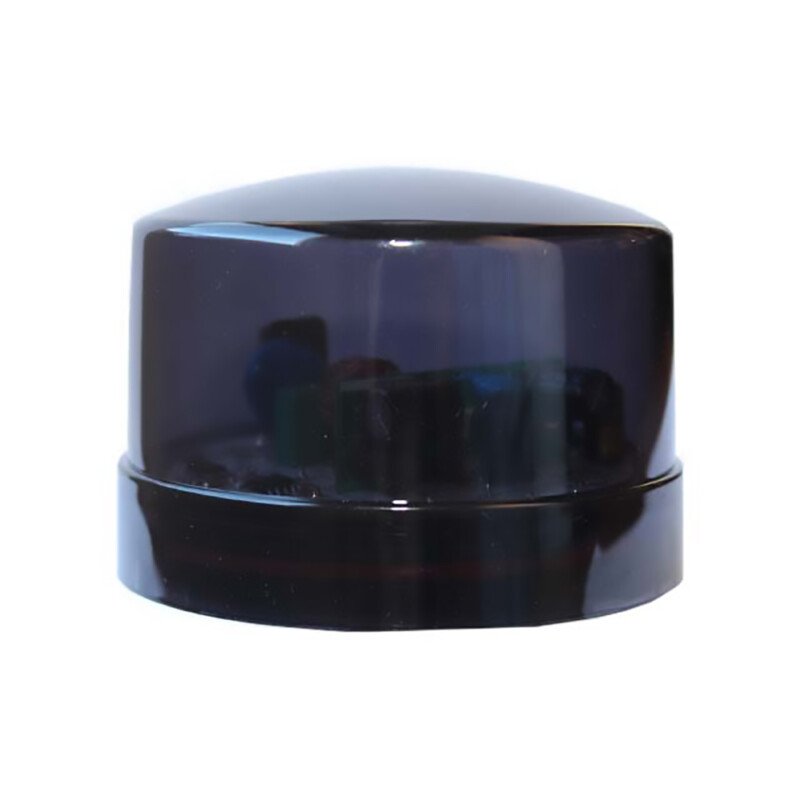 Different communication profiles can be configured to match the luminaire driver/ballast requirements (see profile list in product datasheet), these include several DALI as well as 0-10V and Relay. The incorporated DALI power supply can be deactivated/activated with Casambi App..
Control unit temperature can be monitored in the App.
It is compatible with other CASAMBI inside and CASAMBI ready products such as luminaries, presence sensors, relays, actuators, push buttons, etc.
CAS-UNI-NEMA-5P-010DA-RL-LX features a light sensor which can be configured in Casambi App to set specific illuminance levels for energy saving, or used in daylight controlled basic scenes for switching the lights on/off. Also an external DALI-2 motion/light sensor can be connected to the DALI bus and will appear as a Casambi sensor in the App (with some specific profiles).
The internal relay controls the LOUT output and will switch it on automatically when the dimming level is greater than 0. However, some specific profiles allow independent control of the relay. The internal temperature of the unit can be monitored in the App.
CAS-UNI-NEMA-5P-010DA-RL-LX is IoT ready. It can receive information provided by a DALI D4i driver or ballast (power consumption, working hours, accumulated energy consumption, temperature, etc.) which can be sent to Casambi cloud through a Gateway device with internet connection and Casambi App set up as gateway. Access to this big data to exploit this information is possible through API and JSON protocol.
OLFER Casambi outdoor control nodes range:
Type
Input voltage
Control signal
Compatible Socket
Additional Features
CAS-24V-ZHAGA-4P-40-DA
       24VDC
          DALI
ZHAGA
Book 18
Small size
CAS-24V-ZHAGA-4P-80-DA
       24VDC
          DALI
ZHAGA
Book 18
Smart switching function
CAS-UNI-NEMA-5P-81-DA
   110-240VAC
          DALI
NEMA ANSI 136.41
Smart switching function
CAS-UNI-NEMA-5P-81-010
   110-240VAC
0-10V
NEMA ANSI 136.41
Smart switching function
Nominal line voltage: 110-277Vac
Input voltage range: 85-305Vac
Frequency: 47-63Hz
Power consumption standby: <0,8W@230Vac
Power consumption: <1,25W @230Vac
Output control interface: DALI (active or passive) / 0-10V
Integrated DALI Bus voltaje source: 16Vdc (isolated from mains)
DALI output current: 45mA rated. 20mA guaranteed
DALI current / 60mA max
0-10V voltage range/max current: 0,2-10V/8mA source. 0,4-10V/10mA sink. (0,2-10V@0-5mA sink)
Dimming range: 0-100%
LOUT max. current; 10A with resistive load / 5A with Electronic ballasts or LED drivers
Light sensor range: 20-1500Lx
RF communication interface: Bluetooth 4.0 or 5.0 Low energy (BLE)
RF communication protocol: Casambi
Protections: Line permanent overvoltage, line surge overvoltage, over temperature
Temperature monitoring;: Internal temperature is displayed in Casambi App
Operating temperature range: -30º to +60ºC
Dimensions: Diameter 88mm. Height 63mm
IP: 66
Connector: NEMA 5P (ANSI C136.41)