Constant Current Supply 1500mA
Dimmable constant current source from LUMITRONIX® for operating constant current LED modules
The new constant current source from LUMITRONIX® functions as an extension for the versatile PowerController V2 control unit and can only be operated in combination with it. The current of a constant current source module is up to 1500 mA. A constant voltage source with 48 V DC is recommended for use. Thus up to 4 constant current sources can be controlled by one PowerController V2. The required LED current is controlled and adjusted via the firmware of the PowerController V2.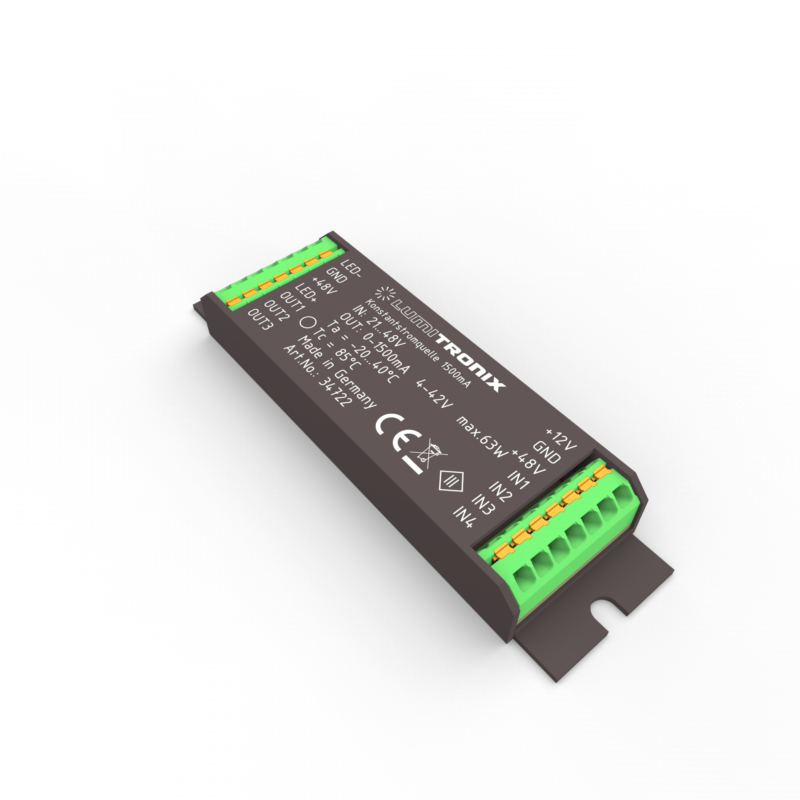 The constant current extension of LUMITRONIX® is first and foremost aimed at luminaire manufacturers who are thus able to control LED modules or strips that are operated with constant current. The following LUMITRONIX® products, for example, are very suitable: PowerBar, SmartArray, LinearZ, MaxLine. But also COBs and single LEDs can be operated with it.
The constant current source is also dimmable, with dimming via PWM signal from approx. 50 mA to 500 mA and analog dimming from approx. 500 mA to 1500 mA. The transition between the two ranges is automatic.
LUMITRONIX® – Smart LED product solutions manufactured in-house
The German LED expert LUMITRONIX® offers innovative and customer-specific LED solutions from a single source. Thanks to our own development and ultra-modern production in Germany, individual custom-made products are easily possible. Benefit from more than 15 years of experience and quality Made in Germany!
Applications of the constant current extension
Control of LED modules or LED strips for constant current operation (such as PowerBar, SmartArray, LinearZ, MaxLine) or COBs and individual LEDs
Industrial applications
Features of the constant current extension
Input: voltage 21 – 48 V
Output: One channel, up to 1500mA, 4 – 42 V
Output current steplessly adjustable via PowerController V2
In combination with PowerController V2 compatible with Casambi and DALI as well
LED current is defined using the firmware of the PowerController V2
Integrated 12V power supply for PowerController V2
Combines PWM and analogue dimming
Dimensions: 100 x 29 x 13 mm
Integrated 12V power supply for PowerController V2
Made in Germany