LED / Retrofit Dimmer CRD INS
Casambi LED-/Retrofit Dimmer CRD INS
Digital leading edge and trailing edge phase dimmer with automatic load detection for a single dimmed phase for a max. load of 380VA. Enabled with one programmable input, local control is so much easier.
Casambi App automatically identifies the device and can be integrated into existing networks. All functions triggered by the buttons are individually configurable.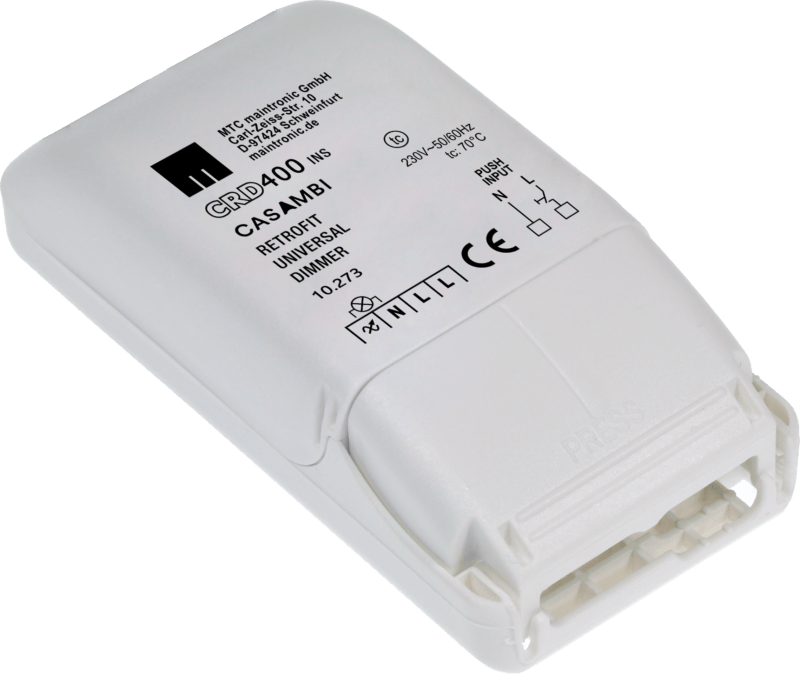 The device has been specially developed to meet the modern requirements of LED lighting. Commissioning is very easy: Connect the target load, switch on, ready. The AdaptiveDIM process automatically determines the stable lowest brightness and the ideal characteristic curve during the initial setup. There is no need to worry about dimming procedures or technical parameters.
Dimming method: Digital leading edge and trailing edge phase dimmer
Dimming load: R, L, C including LED Retrofit
Input: 220 … 240V AC 50/60Hz
Output: 4-200 VA (CRD200 INS Item 10.272); 4-380 VA (CRD400 INS Item 10.273)
Control: Casambi and push-button
Mounting: Installation in ceiling, wall or luminaire
Dimensions: 29,5 x 51 x 101,5 mm