PowerController V2 Control Unit Casambi
The new PowerController V2 Casambi from LUMITRONIX® is a powerful control unit for Tunable-White, Dim2Warm or colour changes. It offers a wide range of possibilities with a minimum size of only 100 x 29 x 13 mm.
Four output channels provide a great deal of flexibility when implementing a wide variety of lighting scenarios.
This means that the PowerController V2 Casambi can be used as a single-channel control unit, dual-channel control unit, three-channel control unit or four-channel control unit.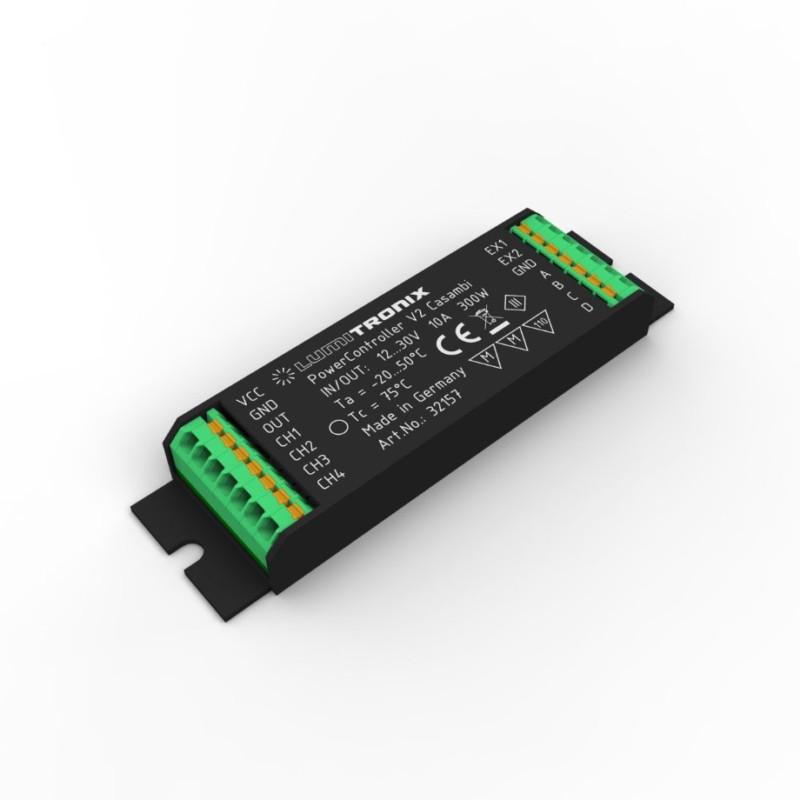 Easy installation due to minimum size
The slim format allows installation in almost any type of luminaire, also due to the practical terminals. A total of up to 10 A can be switched via the outputs. The PowerController V2 allows the control of constant voltage LED modules.
LUMITRONIX® – Smart LED product solutions made in-house
The German LED expert LUMITRONIX® offers innovative and customer-specific LED solutions from a single source. Thanks to the in-house development and ultra-modern production in Germany, individual custom-made products are easily possible. Benefit from more than 15 years of experience and quality Made in Germany!
Features
Integrated Casambi module allows smart control of connected light sources using the Casambi app (free in Appstore and Google Playstore)
Up to four analog signal sources can be freely configured: button, switch, 0-10 V, 1-10 V, NTC, potentiometer, LDR
Two analog signal sources can also be used with active sensors, e.g.: motion sensor, brightness sensor, capacitive button or infrared sensor
Four output channels (e.g. 2x Tunable-White / 1x RGBW / 4 single colours)
Up to 10 A can be switched via the output channels (1x 10 A / 2x 5 A)
For controlling constant voltage LED modules (output voltage from 12 – 30 V)
Input voltage depending on LED module (12 – 30 V)
Output power: 120 W at 12 V DC; 240 W at 24 V DC; 300 W at 30 V DC
The compact design with 13 mm height and 29 mm width allows installation in almost any luminaire. The practical clamps allow easy and quick installation.
Ideally suited for controlling the following LUMITRONIX ® Tunable-White, Dim2Warm and RGBW products: LumiFlex, SlimFlex, BackMatrix and SmartArray 24 V
Ideal for controlling all types of luminaires with "Tunable White" LED modules, e.g. ceiling luminaires, industrial luminaires, floor luminaires, wall luminaires, pendant luminaires