PROFESSIONALE HC CASAMBI BI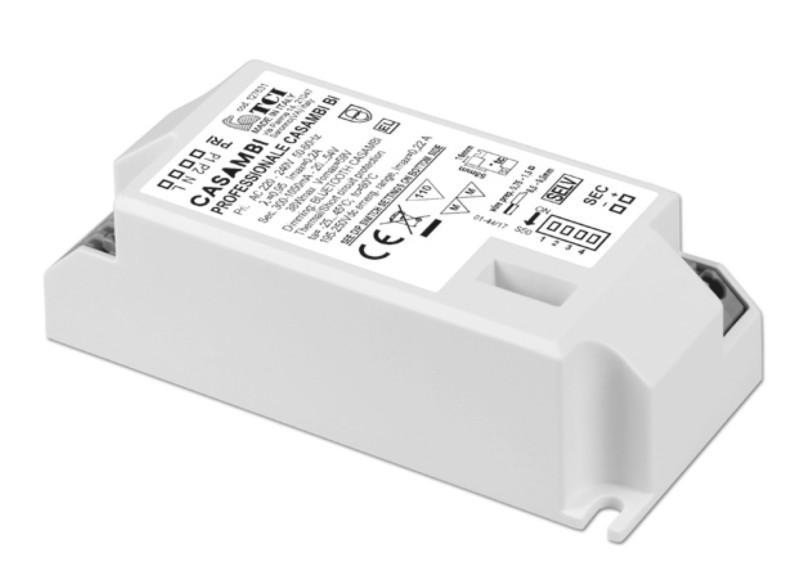 PROFESSIONALE HC CASAMBI BI (127662) is a m

ultipower driver supplied with dip-switch for the selection of the output current with integrated wireless CASAMBI receiver.

Driver for built-in use 

It can be used for lighting equipment in protection class I and II

Active Power Factor Corrector.

Current regulation ±5 % including temperature variations. • Input and output terminal blocks on opposite sides 

(wire cross-section up to 1,5 mm2 / AWG15).

Driver can be secured with slot for screws.

Protections: 

against overheating and short circuits, against mains voltage spikes, 

against overloads.

Thermal protection = C.5.a

Light regulation 0/1 – 100 % by means of PUSH SWITCH function and APP or compatible devices for CASAMBI integrated WIRELESS module.
Rated Voltage: 220 ÷ 240 V
Frequency: 50-60 Hz
AC Operation range:198 ÷ 264 V
DC Operation range: 176 ÷ 275 V
Power: 5 ÷ 45 W
iTHD: ≤ 10%

Output current ripple: ≤ 3%

Max. pcs for CB B16A: 

50 pcs

In rush current: 

5A 50μsec