PWM4 10A 12-48VDC
Code: DEM.214.
4 channel Bluetooth PWM dimmer.
4 independent PWM outputs at 1.95kHz, making ideal for TV studios.
The dimmer's total output is capable of supplying up to 480W @ 48VDC, 420W @ 42VDC, 240W @ 24VDC and
120W @ 12VDC of load max.
Indoor use only.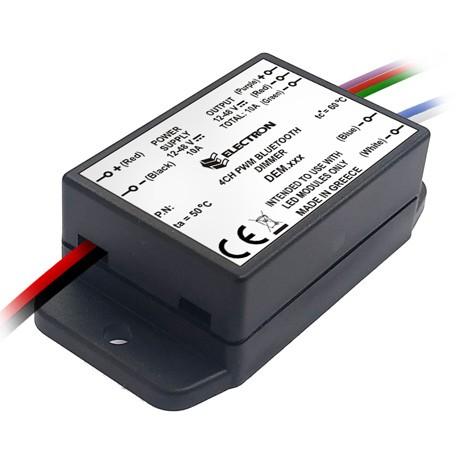 Output channel 4
Input voltage: 12-48VDC
Total Output current: 10A
(Ch1 + Ch2 + Ch3 + Ch4)
Maximum current per channel 10A
Output voltage: 12-48VDC
Maximum output power 12VDC-120W / 24VDC-240W / 48VDC-480W
Dimmable PWM: 1953Hz
Type of loads
Constant voltage dimmable LED modules