R3000WCM
The Bluetooth Relay R3000WCM is used to switch on and off different load types up to a breaking capacity of 13A (cos φ = 1). The area of usage for a relay is wide, as it can be used for many different load types or loads with a high power, which a traditional phase-cut dimmer can't handle. This relay, for example, may control everything from industrial luminaries to wall sockets or electrical motors.
R3000WCM is IP20 and equipped with two inputs for retractive switches. With two inputs for retractive switches, you can for example have one switch control the relay itself and the other switch control a scene in the Casambi app.
R3000WCM comes with equipped with two different profiles to choose from which will make the relay suit the need:
R3000WCM ON/OFF: The relay is activated/deactivated by pressing the button.
R3000WCM ON WHILE PRESS: The relay stays active while the button is held pressed.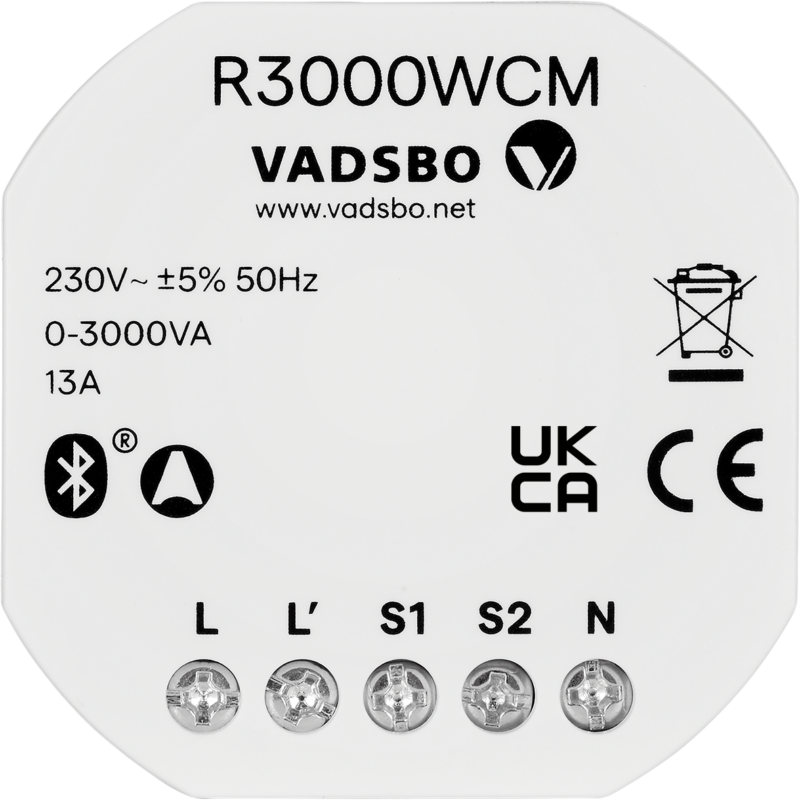 Designation: R3000WCM
Power: 0-3000VA
E-number: 13 013 45
Art.number: V-42B0106-001Y
Input voltage: 220-240V
Frequency: 50Hz
Frequency band: 2402MHz-2480MHz
Maximum radio-frequency power: 4dBm
Standby power: <0,5W
Maximum interrupt rating: 13A (cos φ =1)
Control signals (ON/OFF): Can be controlled with one or multiple retractive switches or via Casambi
Remembers the last set state: Yes, even after power outage
Overheat-protection: Yes
Mounting: Wall mount box
Operating humidity: 0…80% non-condensing
Operating temperature: -20°C + 30°C
Dimensions LxWxH: 47,5×47,5x20mm
Weight: 45g
Cable area: 2,5mm2 (AWG 22)
Housing material: Polycarbonate (PC)
Usage areas: Control non-dimmable loads up to an interrupting
rating of 13A (cos φ =1)
Insulation class: IP20
Cladding class: II
Authorizations: CE