The 2019 Casambi Awards is now open for entries!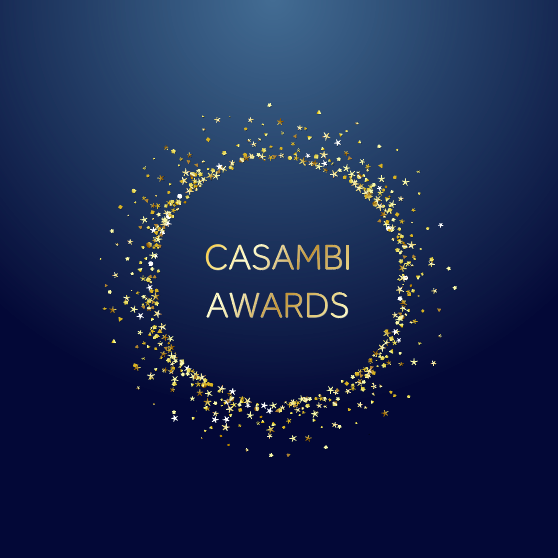 Please notice that the 2019 Casambi Awards are closed. The winners will be announced at Light + Building in March 2020.
Are you passionate about lighting and would like to get a bit of visibility both for yourself as well as for your project(s)? Nominate them to the 2019 edition of Casambi Awards!
What do I gain out of this?
You get your project as well as your profile promoted for the huge follower base of Casambi! You get to get in contact with the most influential and amazing jury that consists of the press, award winning lighting design legends, the leading international specialist in architectural lighting, the coolest Semiconductor company and the Courtauld Institute of Arts!
What can I win?
Besides adding "award winner" in your CV, you can win visibility for your project with a spread in arc magazine as well as a celebratory dinner with the judges.
The procedure
To be able to participate in the 2019 edition of Casambi Awards, please fill in the following form and send it together with 3-10 photographs to marketing@casambi.com. Photographs can also be shared through dropbox or by programs like WeTransfer.
What type of project can be nominated?
Feel free to nominate all types of architectural lighting projects that have Casambi technology installed. You can nominate as many projects as you like. The project has to be at least in final installation phase if not completed. There are no categories nor any restrictions in location of the project. You can also nominate projects as a group.
Who can nominate?
It doesn't matter if you are a lighting designer, electrical consultant, architect, interior designer, a commissioning engineer or just a general influencer as long as you are passionate about the project and know how the project came about.
What does it cost?
Nothing.
Timing
We accept proejct entries until the 12th of January 2020. The sooner the entries are sent the more visibility they will get, so hurry up!
The 2019 Casambi Awards jury
Kai Piippo

Pavlina Akritas
Associate Lighting Designer
Arup
Pavlina has a broad range of experience in developing holistic and authentic lighting design that integrates natural and electrical lighting solutions. She is passionate about the design of museums and art galleries and has worked on a wide range of international projects including the Broad Museum in Los Angeles (USA), the Jumex Musuem in Mexico City (Mexico), the Royal Academy of Arts (UK) and the The Albukhary Foundation Gallery of the Islamic world at the British Museum (UK). In June 2017 she was name one of the Top 50 Women in Engineering Under 35 by the Telegraph and in May 2018 one of the 40 Under 40 Young Lighting Designers globally. She is one of the protagonist of 'This Is Engineering' campaign which seeks to rebrand engineering for people aged 13-18.
Andrea Nava
Managing Director
Erco Italy
Andrea Nava started his career in 1991 with experiences in Generali, ICCREA, Enel, Cariboni and from 2006 is running the Italian branch of ERCO, architectural lighting leading company, closely collaborating with architects and professional lighting designers. With a passion for architectural lighting, Andrea Nava is closely involved in ERCO's projects like the Dome of Milan, Brera Museum and Prada Foundation in Milan, Uffizi Gallery in Florence, the Roman Forum and the National Modern Art Gallery in Rome. "Perception-orientated lighting design, implemented in the context of efficient visual comfort, is our mission!"
Marc Juarez
Technical Director Europe
Seoul Semiconductor
Marc Juarez is an Industrial Engineer and entrepreneur passionate about LEDs and lighting in general. He was born in lighting with the LED revolution in 2009 starting a lighting company in Spain called LEDsPRO that was successfully sold to the French company Lucibel after 2 years in the market. With the boom of the LED industry and with his company sold to Lucibel he moved to France to work in the R&D department to develop new LED luminaires and new ideas. As anecdote the French president at that time Francois Hollande was on the TV making a demo of a bulb developed by the R&D team he was working on. After 2 years in France he moved to Germany the biggest lighting market in Europe were he started a career in Seoul Semiconductor. During the last 5 years he occupied several positions in the company, always related to technology, product applications and sales support. Impossible is nothing!
Paul James
Managing Director
[d]arc media
Paul James is Managing Director of [d]arc media, the organisation that publishes arc and darc magazines. Paul has 25 years of experience in the international architectural lighting press. He knows everything about covering architectural, retail and commercial lighting projects all over the world. Paul is also an organiser of [d]arc awards and [d]arc room exhibition in London. Paul has been in several award juries and has a great passion for light.
"lighting is so crucial for people's lives… I see light as the greatest energy power on earth.. without light, there is nothing… and imagine, that you can actually work with this power and form it!"
– Kai Piippo-
Do you have any questions? Ask us anything!
Please contact us on marketing@casambi.com.