Lightfair 2017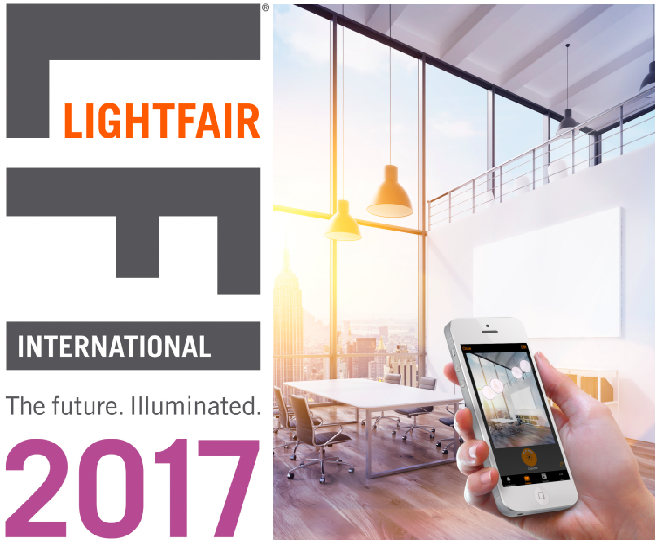 Smart wireless lighting control platform showcased at LIGHTFAIR
We will use this year's LIGHTFAIR International event to demonstrate our smart wireless lighting control platform – showing how this technology will allow users with smart devices to interact effortlessly with modern lighting around them.
Booth
Visitors to the Casambi booth (5606) will be able to see our wireless control platform in action and how it operates with the extensive range of pushbuttons, smart switches and movement sensors. The latest firmware update provides integrated support for users of EnOcean switches, DALI devices and presence sensors. In addition, a new control hierarchy has been developed to make it easier for users to automate lighting operation across a wireless network and to perform manual overrides.
Xpress
We will also showcase Xpress, a wireless user interface that brings huge flexibility to interior design, as furniture can be replaced or even walls rebuilt without having to take wiring of switches or switch placement into account. The switch can be kept wherever the user needs it and it gives direct access to all the important Casambi lighting control functionalities.
Bluetooth Low Energy
Based on power-conserving Bluetooth Low Energy (BLE), the award-winning illumination solutions from Casambi are able to deliver a dynamic user experience, strong performance characteristics and heightened reliability. Covering everything from basic, individual lighting-fixture controls through to industrial-scale solutions with cloud-based remote control, monitoring and data logging, our technology is straightforward and cost effective to implement into lighting fixtures, drivers and lighting control modules.
Tetris
On the Casambi stand, there will also be a Tetris game for visitors to play which will demonstrate how fast, versatile and reliable the Casambi protocol is. Casambi's App is downloadable for free for Android and iOS operating systems.