McWong and Casambi Collaborate for Exceptional Bluetooth Mesh Connectivity and Functionality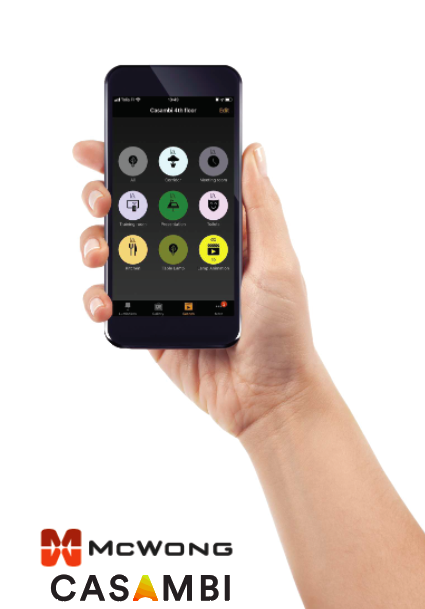 SACRAMENTO, California and ESPOO, Finland September 30, 2019- McWong International, a leading lighting and controls solutions provider, and Casambi Technologies, a leader in wireless lighting control solutions based on Bluetooth® Low Energy, are pleased to offer the marketplace a comprehensive control platform, infused with robust wireless connectivity.
The Casambi application interface provides comprehensive controllability to McWong's Bluetooth®-enabled Smart Sensor Control Platform. This platform includes a wide range of control devices, such as dimming occupancy sensors (PIR, ultrasonic, and microwave); fixture controllers, and dimming wall switches. With the Casambi app, available in Android and iOS, users have a full range of control parameters, including ON/OFF; dimming; grouping; adjustable ramp and fade for dimming functions; scenes; scheduling functions (ON/OFF or other light level by time and date or astronomical); white color tuning; and much more. System setup and commissioning is simplified, with auto-discovery and device pairing without the need for additional wiring, gateways or other devices.
"We are very pleased to collaborate with Casambi," says Stephen Zhou, Vice President of McWong International. "With Casambi powered options, our Smart Sensor Control platform offers much-needed versatility. For instance, network users and administrators will appreciate the ease of adjusting networks with broadcast firmware update capabilities and the ability to obtain continuous data about system performance when desired."
"McWong is a valued partner in delivering Bluetooth-enabled solutions to the lighting and controls community, says Doug Paton, Casambi Director, Product Marketing for North America. A full-featured, Bluetooth-enabled control solution requires robust wireless sensors and switches; the addition of McWong's products ensure the Casambi-enabled solution offers customers the most comprehensive options available in the marketplace today."