Experiments with light and intelligent braidings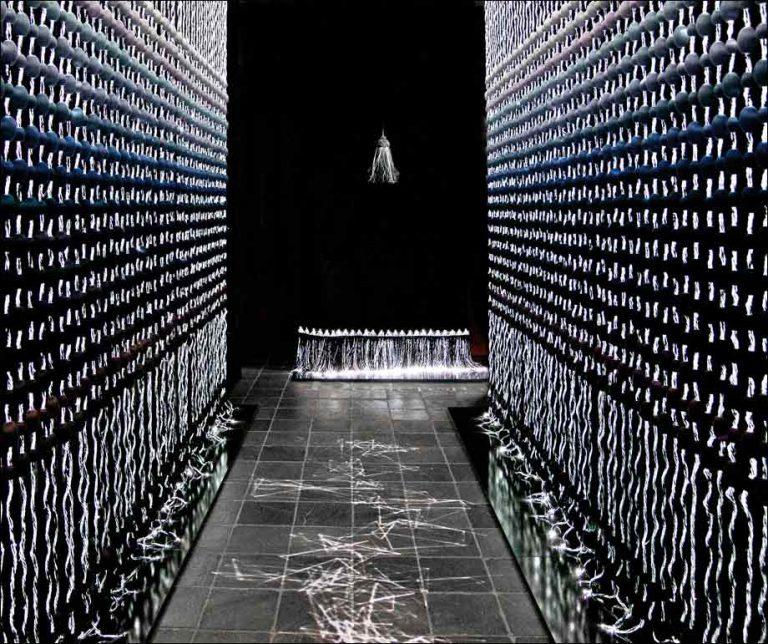 Casambi's wireless control technology is powering a dramatic and innovative new installation at this year's Paris Design Week.
The installation entitled Experiment of Light, combines fibre optics with the traditional art of passementerie — the intricate trimmings used to decorate luxury clothing and furnishings.
Working with Françoise Mamert and Clémentine Chambon of leading design studio Design Percept, and renowned passementerie experts Declercq Passementiers, Casambi's technology is being used to create an interactive installation featuring glowing silk tassels that can be controlled via its dedicated mobile app.
The design concept was to create intelligent, illuminated passementerie, combining the intricacy and opulence of the craft with the optical fibres that underpins so much of modern digital communication.
The resulting installation is a unique experiment in blending the traditional with the contemporary, and reveals the inherent beauty of fibre optics.
Casambi's professional lighting control platform is the perfect tool to bring simple, reliable and adaptable wireless control connectivity to the Design Percept installation. Based on Bluetooth Low Energy, Casambi makes it possible to communicate directly with light fittings and sources from a mobile app, with no need for a Wi-Fi or Zigbee network or any other hardware. The brightness and colour of light can easily be controlled, and scenes and animations can also be created via a mobile phone or tablet.
Paris Design Week runs until Saturday 15 September.
Photos © Design Percept & Antonio Luce