Casambi Summit 2023: Welcome to the Partner Expo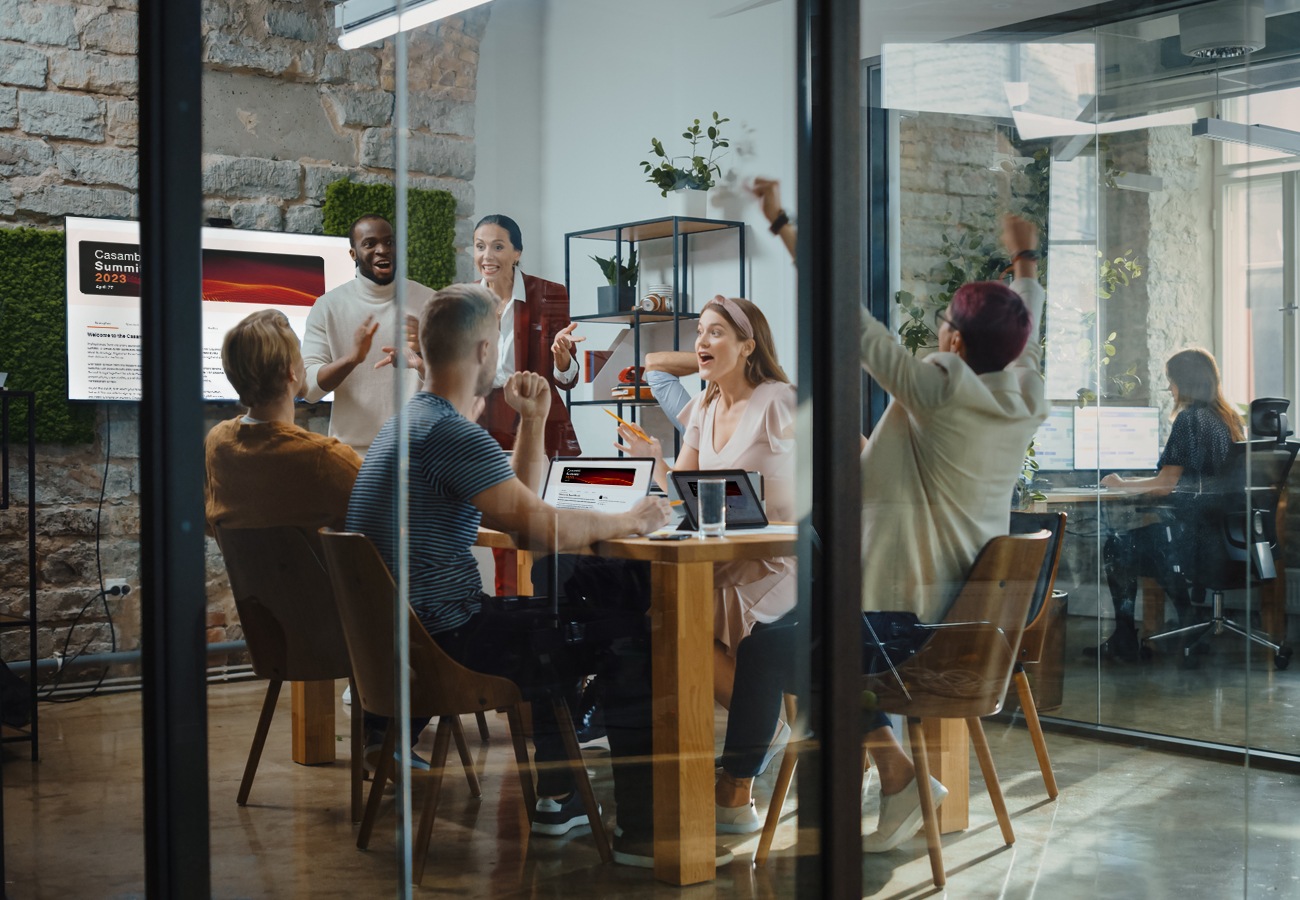 Don't forget to explore the Partner Expo, where many companies will virtually showcase their offering and welcome the opportunity to initiate deeper talks with Summit goers.
The Casambi Summit was inaugurated several years back with the intention of getting the whole Casambi community together for a day of discussions around the latest developments in wireless lighting control. Not wireless lighting control for the sake of wireless lighting control, but because we all recognize that it is a prerequisite for vitally important, high-quality lighting experiences that can positively impact health, the environment and support the creation of dependable infrastructure. The Casambi Community is vast, with many players in hot pursuit of this holy grail.
The Summit has been choreographed in such a way as to encourage the sharing of knowledge and skillsets to create impactful new lighting products and spark new collaborations. As such, we introduced an adjacent Partner Expo area where many companies will virtually showcase their offering and welcome the opportunity to initiate deeper talks with Summit goers.
Who you will encounter at the Partner Expo.
The exhibitors' list is being updated on a constant basis (in fact, as this communication is being drafted, we're confirming new ones: CDI, eldoLED, Dalcnet, Diodeled, Extronic, Koizumi, Lithoss, Luci, Mount Lighting, Rayrun, Reggiani, RP Group and Vlinca - welcome onboard!), here are a few booth highlights to get you revved up.
Adquio 
For controllers, expansions and BMS for the modern world. The Adquio ecosystem covers all the needs of any sector, from lighting and air conditioning to industrial facilities. They'll be showcasing the Adquio Screen and Adquio Industrial Screen and how they integrate directly with Casambi using the Casambi API and its Casambi Cloud Gateway, and locally using a Lithernet gateway.
Atrium 
Benefit from their expertise gained over 45 years in the game. Atrium focuses entirely on lighting and controls with a portfolio of exclusive brands that individually, collectively, and comprehensively deliver best-in-class product design and technology to commercial projects, hospitality venues, residential developments, and high-street retail environments.  The company adds value to its clients' projects through a deep understanding of how light influences human well-being.
Eclipse
Building control and energy management at its best. Eclipse offers a full end-to-end service for all aspects of specialist lighting, building control services, and energy management systems from design to handover and ongoing service and maintenance. 
Entity Elettronica
For top-notch electronic engineering and manufacturing services. Entity offers Casambi to DALI gateways to control with a unique device up to 64 DALI control gears – automatic programming designed by Entity helpfully avoids DALI commissioning.  Ask about the possibility of integrating Casambi with vocal assistants (Amazon Alexa – Google Home). Applications include 220V, LV tracks and more.
Formalighting 
Over 50 years dedicated to the design, manufacture, and application of functional, innovative, solution-oriented high-quality architectural lighting. Formalighting embraces sophisticated techniques and advanced lighting technology, particularly in this era of IoT and Smart Lighting. 
Holders Technology 
Design, hardware and project services: Discover Holders' three-phase approach to Casambi Bluetooth lighting controls, including the management of lighting, energy, and occupancy data through the Holders Smart Lighting solution and additionally, management of data from third-party systems, through the Holders Smart Building solution. 
LEDbyDESIGN
For easy control in complex lighting environments. With over 20 years of experience in lighting software and technology, LEDbyDESIGN's Casambi-enabled lighting control system is designed to provide superior wireless capabilities, making it simple to control and manage lighting in any complex lighting environment, while also offering customization based on specific needs. 
Losant 
Learn how IoT enables the freedom to create. Visit the Losant booth to learn more about the Internet of Things and the powerful role it can play in creating a smart, sustainable, and profitable future for your business. Losant's solutions experts will be on hand to discuss these exciting possibilities, share more information about the synergy between IoT and smart technology, and answer any specific questions you may have. 
Magtech
For high-quality LED lighting solutions. From drivers to cutting-edge wireless emergency egress devices, Magtech's enhanced production facilities ensure all of your products are certified, quality checked and arrive in excellent condition and on time. Established in 1988, with global headquarters in Las Vegas Nevada, Magtech understands superior customer service, value and technical support is the key to success. 
Olfer
For all resources oriented towards energy efficiency and LED lighting. Electrónica OLFER was founded in 1975 and has been dedicated to the distribution of electronic components for more than 40 years. Its objective is to provide resources oriented towards energy efficiency and LED lighting, betting on reliable control solutions. It has its own engineering and qualified technicians for the design, manufacture and support of Casambi Ready equipment in Europe. 
Vanpee
Offering sign and décor lighting, environmental and energy-saving components, and lighting controls, Vanpee has established itself as a natural partner for manufacturers, wholesalers, electrical installers and consulting engineers. Visit Vanpee's booth at the Casambi Summit to explore the possibilities of integrating wired and wireless lighting control.  
How to access the Partner Expo.
It's very easy. To access the Partner Expo, you will need to register in advance for the Casambi Summit. When you log on to the event platform on the day of the Summit (we'll send you your credentials nearer the time), you will see an 'Expo' button to the left of your screen, which will open the virtual doors to the Expo. It's very intuitive.
Interested in learning more about Casambi? Drop us a note, and we'll reach out to you: