Arel
The extensive Arel luminaire range is designed for offices and other public spaces. The luminaires are equipped with a matt anti-glare shield. Suspension or surface mounting. The standard range includes two colour temperatures and sizes. Integrated LED. A wire-suspension fixture is available as an accessory (4107113).
White, RAL9003
Steel housing, matt aluminium anti-glare shield
Suspension or surface mounting
Available in 3000K and 4000K
Integrated LED Downlight version: 19–58W / 2150–6850lm
Uplight and downlight version: 54–79 W / 5800–8800lm
Lengths 1245mm and 1545mm
CRI>80
IP20
Installation height 2-4m
Ambient temperature range 0 … 25°C
CRI>90 available for order. Also available with various connecting cable solutions and a pull switch (On/Off and Dali). High gloss anti-glare shield, luminous flux packages 1900–7200lm and gray color, RAL9007, also available on request.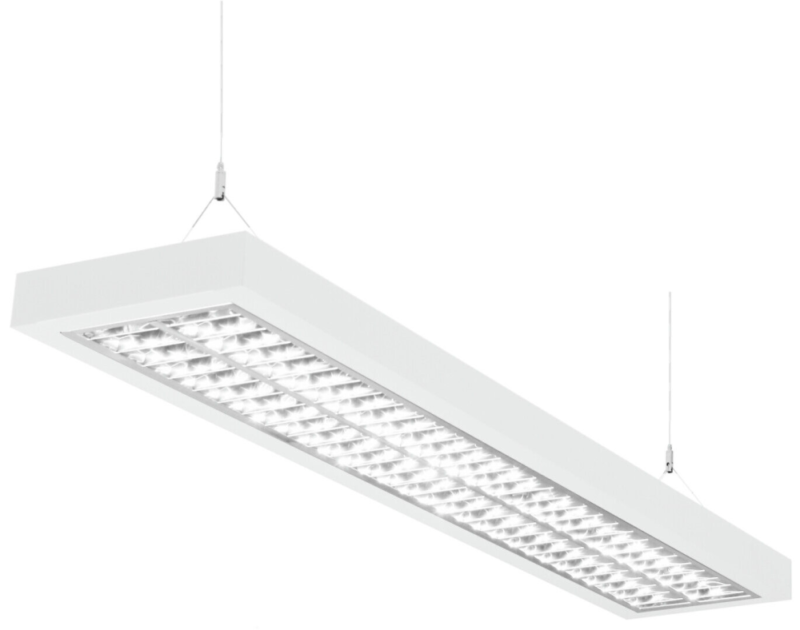 Light source
· 19-58W
· 2150-8800lm
· 3000 or 4000K
· CRI>80
· MacAdam 3 SDCM
· L70B50 100 000 h (Ta25°C)
· L80B10 80 000 h (Ta25°C)
· Power source lifetime 50 000h
Optics
· Downlight version
· Uplight and downligh version
Mounting options
· Suspension
· Surface
Wiring
· Linkable, 3 x 2,5mm2, Dali-versions 5 x 2,5mm2
Protection
· IP20
· Protection class I