CBU-SENS-HB-010+17M.60X60
CBU-SENS-HB-010_17M.60×60 is a presence and luminance sensor with integrated Casambi BLE communication module. This Casambi
Ready sensor is compatible with Casambi native and Casambi Ready products and must be linked to a Casambi net in order to function.
Use of a high sensitivity PIR with specific optics make it suitable for up to 12m mounting height applications (up to 17m height applications are possible when contrast between objects and background is >4ºC).
Linger time and fade time of presence sensor can be adjusted by use of Casambi free APP (available on Google play and Apple App store). Sensitivity, tolerance/threshold and calibration of the luminance sensor can also be set with the App.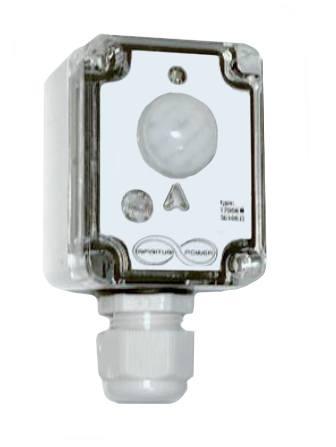 In addition to presence and luminance sensors, CBU-SENS-HB-010_17M.60×60 incorporates a 0-10V control output. This additional function will be enabled when any of the -010 profiles is selected before linking the sensor to a net. While presence and luminance sensors functions appear in the sensors section of the Casambi App, 0-10V control will show up in the luminaires section.
Available profils and descriptions:
CAS-SENS PS-LS: Disable 0-10V Output
CAS-SENS PS-LS (No LED): Disable Presence detection LED
Disable 0-10V Output
CAS-SENS PS-LS-TP-010lIN: Linear dimming curve for 0-10V
Output
CAS-SENS PS-LS-TP-010lOG: Logarithmic dimming curve for 0-10V
Output
Line voltage: 100 – 277Vac (±10%. 85-305Vac)
Power consumption. Max.: <1W@230Vac
Standby power consumption: <0,8W@230Vac
0-10V Current: 5mA max. Sinking or Sourcing
Dimming range: 0-100% (0-10V)
Type (PIR): Digital output. High sensitivity
Detection range: 17m@4°C difference.
12m@2°C difference
Detection angle: 62°x62° (±31° Horizontal, ±31° Vertical)
Detection zones: 128
Luminance range: 50 – 1500 lx
Operation ambient temperature: -20°C to +60°C
Weight: 150 g
Dimensions (Length x width x height): 95 x 50 x 55 mm (cable gland included)