EVB-CBM002A
This evaluation board has been designed to show and test the diverse features and output/input configurations of CASAMBI CBM-002 module.
The top PCB of EVB-CBM002 incorporates a CBM-002 module and a MicroUSB input connector (5V) input.
A power-ON LED will turn on when the evaluation board is powered by the MicroUSB. EVB-CBM002 incorporates a voltage boost type converter in order to provide power for the 0-10V analog outputs.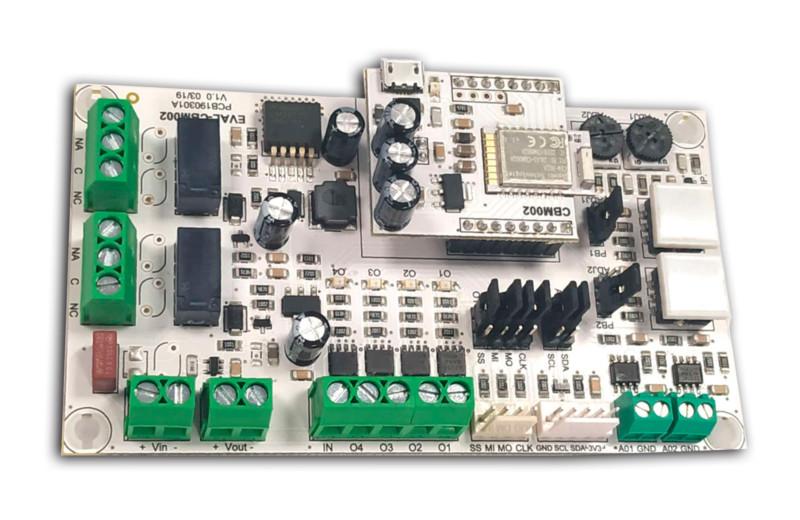 When any of the outputs (O1, O2, O3, O4) is going to be used, an additional power supply is required to be connected to Vin input. Rating (U, I) and type (Constant current, Constant voltage) of this power supply must be selected according to the type of load that will be connected to O1-O4 outputs.
Note that the negative pole of this power supply will be connected to the negative pole of the microUSB input through the evaluation board.
Includes communication bus for I2C, TWI or SPI bus expansion, two digital inputs (2 buttons), two 0-10Vdc analog outputs, four PWM digital outputs for RGBW 2A strip control, one analog input for the current measurement, for a COB output or the RGBW strip itself, one analog input for temperature measurement and two 2A relay outputs with potential-free NANC changeover contact.
Incorporated features:
– 2 trimmers for simulation of analogic signals (sensors, etc).
– 2 pushbuttons.
MicroUSB input voltage: 5VDC
MicroUSB input Power consumption: <0,5W
Vin Input voltage range: 5-35V
Vin Input current (I): 0-2A
Vout voltage: Vin voltage – 0.1*I2
Vout maximum current: 2A
A01, A02 outputs maximum voltage: 12VDC
A01, A02 outputs maximum current: 50mA
RL1, RL2 contact rating: 2A, 220VDC
O1-O4 output voltage: Vin voltage – 0.1*I2
O1-O4 output maximum current: Total current of all outputs < 2A. Single output <2A.
Dimensions (L*W*H): 120 x 60 x 40mm