MiniController Casambi
Smart tunable white controller in smallest format for integration in luminaires
The MiniController Casambi Classic from LUMITRONIX® is a control unit for LED modules with Tunable White technology that is only 8 cm long and 1.4 cm wide. The integrated Casambi module enables convenient operation via smartphone or tablet using the Casambi App.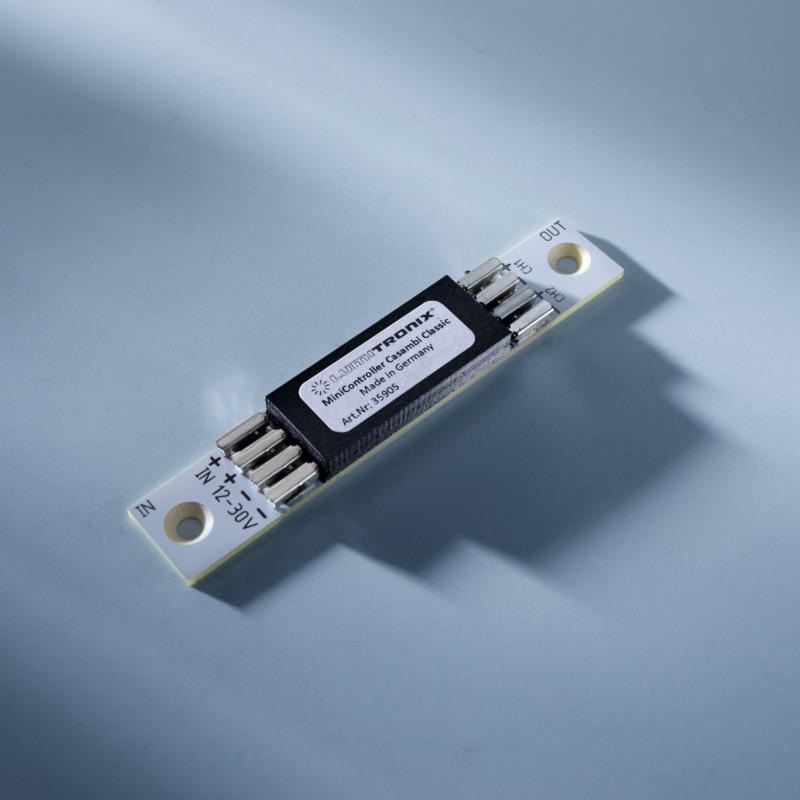 Two channels can be used to control either one tunable white module or two monochrome modules with a constant voltage of 12 to 24 V. The controller supports up to 3.5 A per channel. The standby power is approx. 150 mW at a voltage of 24 V. With the help of the app from the Finnish technology company Casambi, which is available free of charge for iOS and Android devices, the brightness and colour temperature of the LED modules connected to the MiniController can be individually controlled. A Dim2Warm mode can also be implemented. The app can also be used to specify whether the last selected brightness and colour temperature values are to be retained after a power interruption.
LUMITRONIX® – Smart LED product solutions from our own production
The German LED expert LUMITRONIX® offers innovative and customer-specific LED solutions from a single source. Thanks to our own development and ultra-modern production in Germany, individual custom-made products are easily possible. Benefit from more than 15 years of experience and quality Made in Germany!
Features
Compact control unit for Tunable White or 2x dimming or Dim2Warm (selection in Casambi App)
For constant voltage LED modules
Control via Casambi App
High current carrying capacity of up to 3.5 A
High output power of up to 170 W
Four terminals at the input for looping through the supply voltage
WAGO PCB terminal blocks for quick connection without tools
Smart control via Casambi App (iOs and Android)
For controlling constant voltage LED modules (output voltage from 12 – 30 V)
Compact dimensions