Target M
Target M offers an ideal spotlight solution for retail premises. This luminaire offers high-quality illumination and excellent colour rendering properties. Its Premium White feature is specifically designed for in-store spot and accent lighting. The feature enhances colour contrasts, emphasising white colour tones. The luminaire is equipped with an almost inconspicuous ballast that is integrated into a three-phase rail. Thanks to its versatility, this luminaire offers a wide range of lighting options for retail spaces as it is easy to move and adjust. Suitable applications include fashion and clothing retail premises, museums and other public spaces.
Powder-coated, white, RAL9003 and black, RAL9005
Pressure-cast aluminium housing. Polycarbonate diffuser. Adjustable and rotating, bevelled aluminium reflector 36°. Options 15°, 25° and 60° as accessories
Mounting on a three-phase contact rail. Dali-2 models on a Dali contact rail
Available in 3000K and 4000K
Integrated LED 27 W, 2500 lm
CRI>90
IP20
IK02
Installation height 3–6m
Ambient temperature range 0 … 25°C
Project-specific luminous flux packages are available with luminous fluxes of up to 3300 lm (CRI>80). The following colour temperatures from the Philips Fortimo SLM range are available: 827, 830, 840, 850, 857, 927 and 930. Premium White is available in colour temperatures 830 and 935. In addition, we offer solutions optimised for fresh meat (FoodPremiumRed) and fruit and vegetables (FoodWarmWhite). The available reflector options: 15°, 25°, 36° and 60°. Barn door light blockers are available by special order.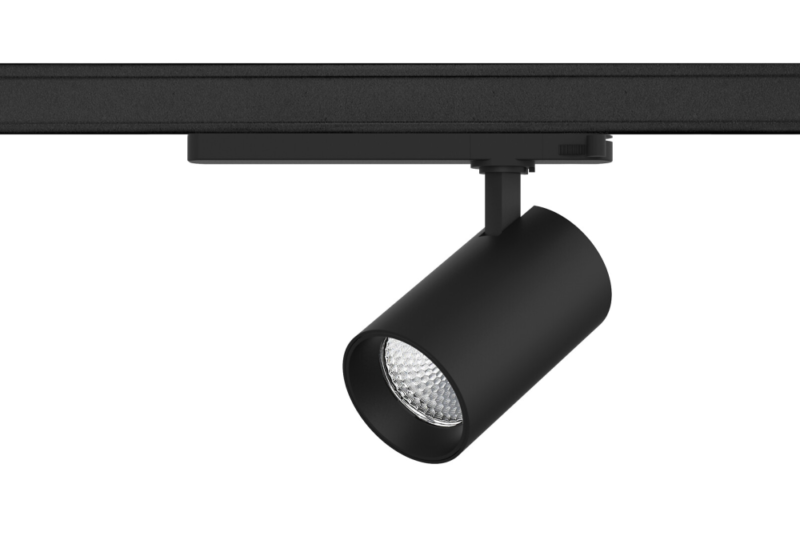 Light source
· 27W
· 2500lm
· 3000K or 4000K
· CRI>90
· MacAdam 3 SDCM
· L80B10 50 000h (Ta25°C)
Optics
· Bevelled aluminium reflector 36°
· Options 15°, 25° and 60° as accessories
Mounting options
· Contact rail
· Compatible three-phase contact rails: Global Trac Pro and Stucchi OneTrack
· Compatible Dali contact rails: Nordic Aluminium Global Pulse and Stucchi OneTrack
Protection
· IP20
· IK02
· Protection class I