Wall-mounted transmitters with Bluetooth Low Energy
JUNG wall-mounted transmitters with Bluetooth LE enable the flexible control of smart lighting systems without using a smartphone or tablet. The integration into the Casambi light control system is easy and operation is as simple as using a regular light switch.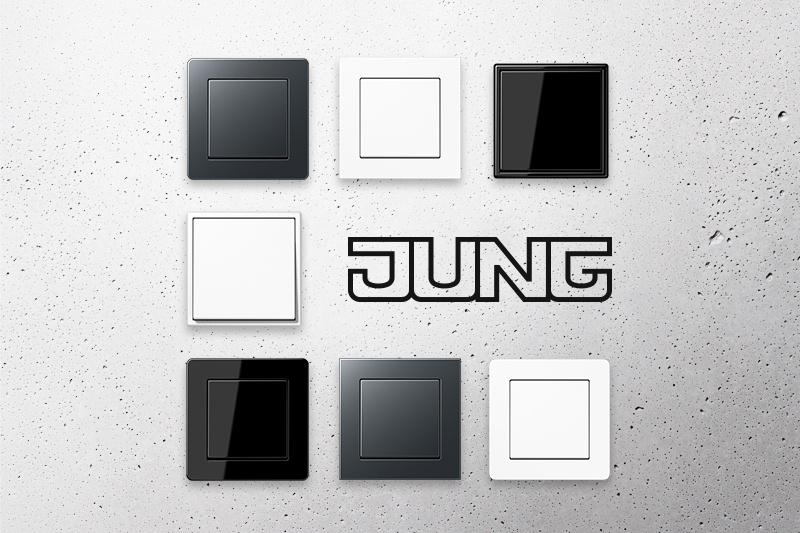 Product description:
The smart transmitters by JUNG combine battery-free EnOcean technology with the wireless transmission standard Bluetooth Low Energy (BLE), thus effectively conserving resources: With EnOcean technology, the transmitters generate the energy required for the wireless impulses kinetically – no external power supply is necessary. Therefore, they can easily be installed virtually everywhere, whether by screwing them to a wall box or simply by attaching them to smooth surfaces using the supplied adhesive pad.
Design
Wall-mounted transmitters with BLE are available in the JUNG switch ranges A and LS. Their modern, stylish design fits harmoniously in every interior. Switches from the LS ranges promise timeless elegance. JUNG offers wall-mounted transmitters with BLE in LS-design in the colours white and black. The A ranges represent a reduced design language in a modern interior. For the A ranges, JUNG wall-mounted transmitters with BLE are available in white and matt anthracite.
Technical facts:
Smart switch for wireless device control using wireless standard Bluetooth Low Energie (BLE)
For switching, dimming and controlling individual light scenes
Battery-free device without external power supply
Transmitting energy is generated from mechanical energy of actuation (energy harvesting)
Radio frequency: 2.402 … 2.480 GHz
Transmission range in buildings: approx.. 10 m
Transmitting power: 0.4 dBm / 1.1 mW
Ambient temperature: -5 … +45 °C