Tridonic and Casambi release much sought-after wireless emergency lighting solution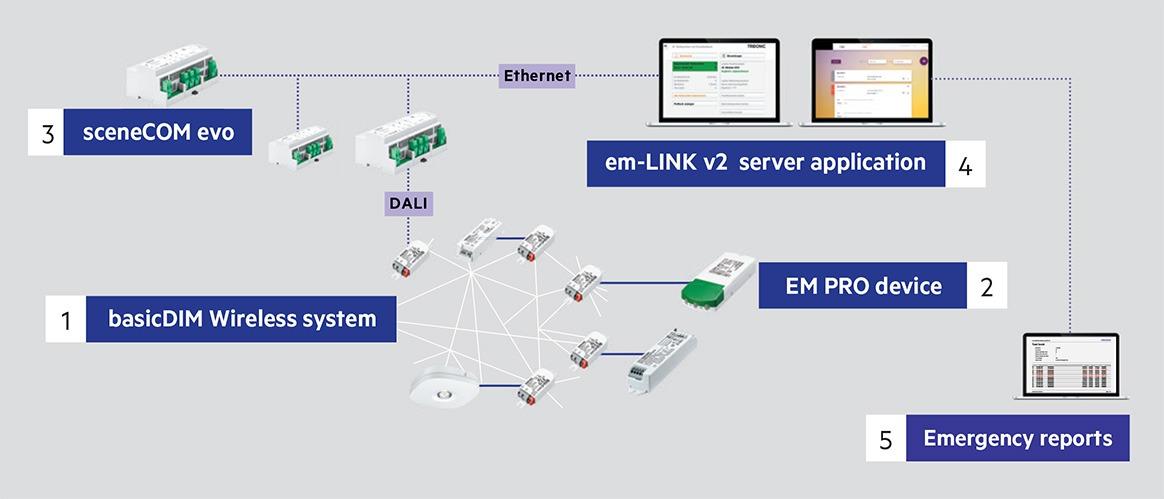 Tridonic combines its user-friendly Casambi-ready basicDIM Wireless control technology with sceneCOM DALI-based lighting control for its new emergency lighting system. The basicDIM Wireless system works as the new solution's backbone, enabling wireless connectivity for emergency luminaires via a fail-safe Bluetooth Low Energy mesh network, and all without the need for additional cabling or structural changes. This means that existing DALI emergency luminaires can be easily upgraded and integrated into a wireless network. As a result, the wireless emergency lighting system is suitable for both retrofits and new installations.
With their new wireless emergency lighting system, Tridonic and Casambi provide building operators and electrical engineers with a simple solution that will simplify planning and installations, all the way through to the operation phase where automatic checks can be done on the system at the predefined intervals and record in real-time the condition of each individual luminaire in the wireless network.
The Casambi-ready module is also ideal for installation in the luminaire due to its compact size, and as it has an integrated DALI supply, no additional device is required. Additionally, firmware updates are available wirelessly on any Android or iOS device.
Read more about the functionality here