Casambi CBM-003
CBM-003 is a Class 2 embedded Bluetooth module designed to be integrated into LED drivers, different lighting control applications, light fixtures, and LED bulbs. It is pre-programmed with Casambi's proprietary firmware making it completely compatible with other Casambi enabled devices.
CBM-003 is controlled wirelessly with Casambi smartphone and tablet ("smart device") applications using Bluetooth protocol. Devices form a self-healing and self-organizing wireless mesh network automatically so that a large number of luminaires can be controlled from any point. No external gateway module is needed.
CBM-003A is equipped with sheet metal PIFA antenna. This antenna type is almost immune to near-by materials.
CBM-003B is equipped with an on-board SMD ceramic chip antenna and CBM-003C is equipped with a 1/4 wavelength monopole antenna.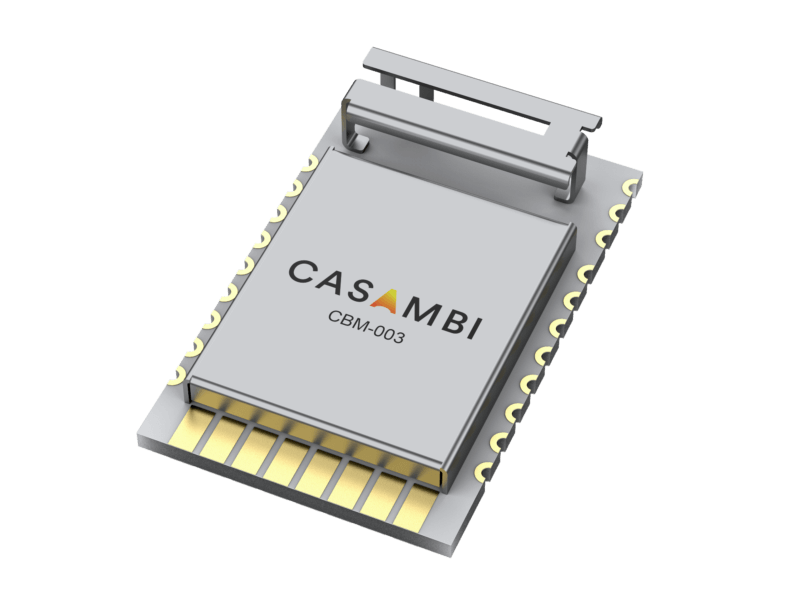 Product description
CBM-003 contains a powerful 32-bit ARM® Cortex® -M4 CPU and a 2.4 GHz transceiver with an onboard antenna. Different external components, such as motion detectors, ambient light sensors, and PWM circuits can be interfaced with the module using its 12 general-purpose I/O pins.
CBM-003 can be mounted both in horizontal and vertical positions, making it very versatile for projects with different form factors.
Applications:
LED drivers, single and multi-channel
Different lighting control applications
Light fixtures
Single and multicolor LED bulb
Size
12.7 x 20.0 x 3.9 mm
Input/Output pins
12 pcs general-purpose input/output pins
4 GPIO can be configured as Analog inputs
Antenna
Integrated antenna
Up to +8 dBm output power and -95 dBm RX sensitivity
-103 dBm RX sensitivity in long-range mode
Mounting
Both horizontal and vertical positions
Range
Range up to 200 m in long-range mode