CBU-ASD-LR
CBU-ASD-LR is a wireless, long-range control unit for any type of driver with 0-10V, 1-10V or DALI dimming interface. The CBU-ASD-LR is available with either analog 0-10V (and 1-10V) or digital standalone DALI control interface.
With standalone DALI [1] output, CBU-ASD-LR acts both as a controller and power supply, making it possible to connect directly to an LED driver with DALI interface without needing an external DALI power supply. This so-called standalone DALI makes it possible to implement multi-channel lighting systems with adjustable color (RGB and RGBW) or color temperature (CCT), while keeping the wiring and number of components to a minimum.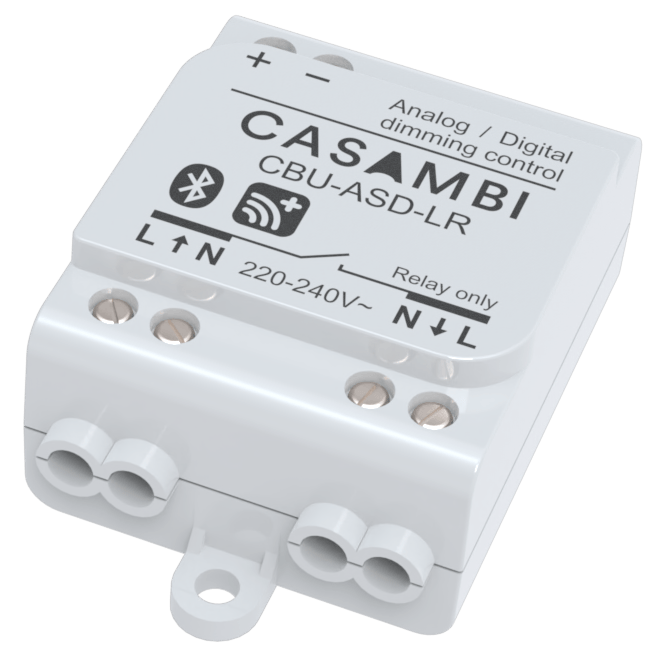 The CBU-ASD-LR is controlled wirelessly with Casambi smartphone and tablet applications using Bluetooth 5.0 protocol. The Casambi App can be downloaded free of charge from Apple App Store and Google Play Store.
[1] The CBU-ASD-LR does not comply with IEC 62386 and therefore is not designed to be connected to an existing DALI network. The module can be used only in a closed system, i.e. as a part of a lighting system which is not connected to an external DALI network.
Features
Wirelessly controllable
No need for an external gateway device
Forms automatically a fast wireless mesh network
Very small form factor for luminaire installation
Configurable analog/digital output
Analog output: 0-10V sinking/sourcing
Digital output: Standalone DALI
Easily implemented RGB and color temperature controls
Controllable switched mains output
Dimming from a standard on/off wall switches
Possibility to configure to support "no voltage" push button
Can be configured to work with a standard PIR sensor (via smart-switching)
Device firmware can be updated over-the-air
Casambi cloud service enhances the user experience
Input
Voltage range: 

220-240 VAC

Frequency: 50 Hz
Max. mains current: 0,6 A
Mains Output
Output relay: SSR on phase line
Voltage range: 

220-240 VAC

Frequency: 

50 HZ
**Risk of fire. Mains output is only allowed to connect to external relay. It must not be connected to LED driver mains input.
0-10 V Output
Voltage range: 

0-10 VDC

Maximum number of drivers connected: 1 pc
Operating frequencies: 

2402…2480 Mhz

Maximum output power: 

+8 dBm
Operating conditions
Ambient temperature, ta: 

-20…+50°C (Iout 0 A)
**ta max 50°C. Derate output current linearly from +40°C…+ 50°C…
Max. case temperature, tc: 

+75 °C

Storage temperature: 

-25…+75 °C

Max. relative humidity: 

0…80%, non-cond.
Connectors
Wire range, solid & stranded: 0,75-1,5 mm2, 

14-22 AWG

Wire strip length: 

6-7 mm

Tightening torque: 

0,4 Nm
Mechanical data
Dimensions: 

56,5 x 35,8 x 22,3 mm

Weight: 

48 g

Degree of protection: 

IP20 (indoor use only)

Protection class: 

Class II