CBU-TED-LR
CBU-TED-LR is a Bluetooth-controlled, Casambi-enabled, long-range trailing edge dimmer for dimmable incandescent, halogen, and LED lamps, and LED control gear. With Casambi's CBU-TED-LR any dimmable load can be easily converted to become a part of a Casambi mesh radio network.
The CBU-TED-LR can also be converted to a mains-activated sensor device and, for example, be installed behind a traditional wall switch, inside a luminaire, or into a ceiling outlet box.
This device can be controlled using the Casambi App, which is available for both iOS and Android devices, as well as with traditional wall switches. The Casambi App can be downloaded free of charge from the Apple App Store and Google Play Store.
Different Casambi-enabled products can be used for anything from basic individual fixture control to the formation of vast, full-featured, intelligent, mesh radio-network-based lighting control systems.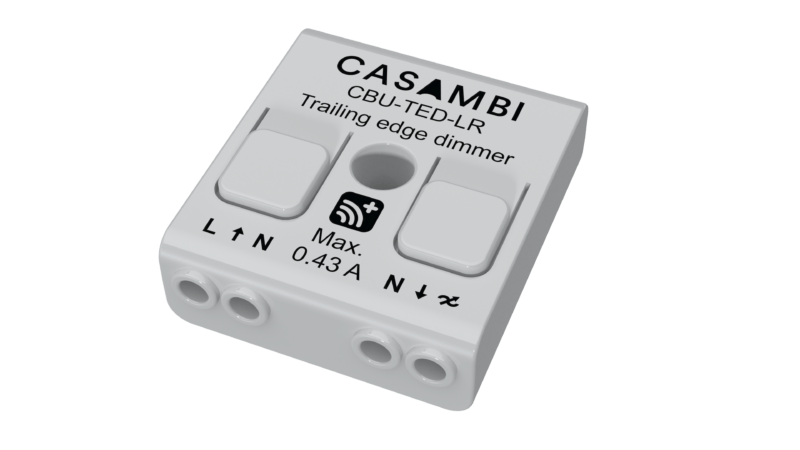 Input
Voltage: 85–240 VAC Frequency: 50–60 Hz
Max. mains current: 0,43 A No-load standby power: < 0,3 W
Output
Dimming method: trailing-edge phase control Max. output power: 100 VA @ 230 VAC
Max. output current: 0,43 A
Min. load requirement: 1 W
Max. inrush current: 10 A, 100 ms
Radio transceiver
Operating frequencies: 2402…2480 MHz Maximum output power: +8 dBm
Operating conditions
Ambient temperature, ta: -20 to +45°C
Max. case temperature, tc: +75°C
Location of tc point: bottom side, underneath output connector. The tc point is marked on the enclosure. Storage temperature: -25…+75°C
Max. relative humidity: 0…80%, non-condensing
Connectors
Wire range, solid: 0,5–1,5 mm2, 16–20 AWG
Wire strip length: 6-8 mm
Mechanical data
Dimensions: 40,4 x 36,2 x 14,0 mm
Weight: 15 g
Degree of protection: IP20 (indoor use only)
Certifications
FCC ID: 2ALA3-CBUTEDLR
IC: 22496-CBUTEDLR
UL Listed, 5LE6/E494741