Xpress-LR
Versatile​
Xpress-LR is a wireless user interface that brings huge flexibility to interior design as furniture can be replaced and walls can be rebuilt without having to take the wiring of switches or switch placement into account. It can be kept wherever the user needs it.
Highly customizable​
The Xpress-LR gives direct access to all the important Casambi lighting control functionalities. The preset buttons of Xpress can be configured via the Casambi App.
Long Range Mode​
There are three radio modes: 'Balanced', 'Better Performance' and now 'Long Range' options. Long-range capabilities can reach approx. 200 meters (650 feet) with a good line of sight connection between nodes.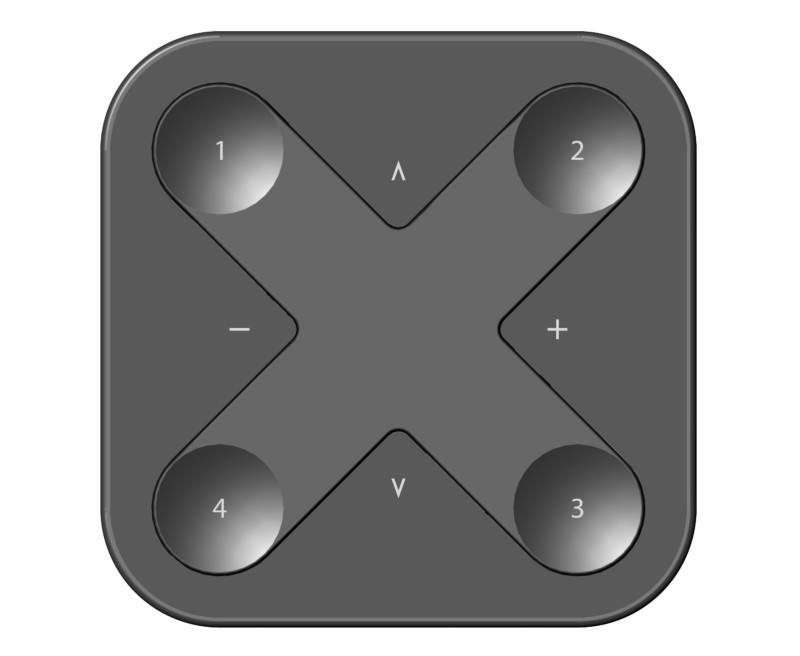 Features
Luminaire control
Group control
Control all luminaires
Recall Scenes
Recall Animations
Smooth dimming
Change of colour temperature
Change of indirect/direct lighting ratio
Input
Voltage: 3VDC
Battery Type: CR2430 Lithium Coin Cell
Radio Transceiver
Operating frequencies: 2.402…2.480 Ghz
Maximum output power: +8 dBm
Operating conditions
Operating temperature: +32°F… +104°F (0°C… 40°C)
Storage temperature: -13°F… +158°F (-25°C… 70°C)
Max. relative humidity: 0…80%, non-cond.
Mechanical data
Dimensions: 3.54"x3.54"x.47" (90 x 90 x 12 mm)
Weight: 2.54 oz (72 g)
Degree of protection: IP20 (indoor use only)
Certifications
Contains FCC ID: T7V1780
Contains IC: 216Q-1780