Casambi Cloud Gateway
Receive data from your Casambi network and remotely control it over the internet with a Casambi Cloud Gateway. 
Based on Raspberry Pi hardware, the Casambi Cloud Gateway comes with Ethernet and Wi-Fi connections for internet access. The user interface is the Casambi App. Two product variants are available; PSU (CGW-001-PSU) and PoE-enabled (CGW-001-POE). The Power Supply Unit (PSU) version comes with a power adapter that's suitable for the EU, UK, US, AU and PRC regions. The Power over Ethernet (PoE) version comes with a splitter to separate the power from the data and feed it into a separate input.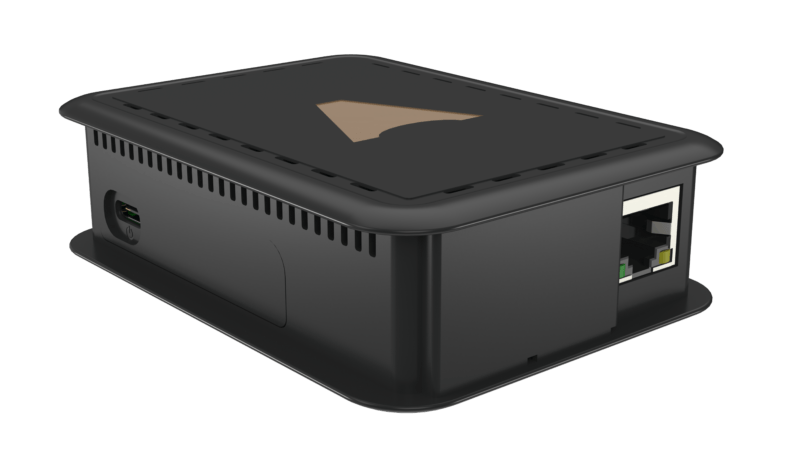 Lighting control options 
It affords much of the same end-user functionality as the Casambi App.
Create groups, scenes, animations.

Dim or turn on/off singular or groups of luminaires.

Dim or turn on/off a whole network.

Turn on/off scenes and animations.

Control color temperature, hue and saturation utilizing the control slider in the app.

Create and edit timers.
Further considerations
For indoor use only.
Use one Casambi Cloud Gateway per Casambi network.
Works with Casambi's Evolution firmware only.
For remote control and monitoring of a Casambi network in real-time.
Broadcom BCM2711, Quad-core Cortex-A72 (ARM v8) 64-bit SoC @ 1.5GHz
4GB LPDDR4-3200 SDRAM
2.4 GHz and 5.0 GHz IEEE 802.11ac wireless, Bluetooth 5.0, BLE
Gigabit Ethernet
USB-C and Ethernet ports
5V DC via USB-C connector (minimum 3A)
Power over Ethernet (PoE) enabled
Operating temperature: 32 – 122 degrees F ambient (0 – 50 degrees C ambient).