CBM-002 Bluetooth module
CBM-002A/B is a Class 2 embedded Bluetooth 4.0 module designed to be integrated into LED drivers, different lighting control applications, light fixtures and LED bulbs. It is pre-programmed with Casambi's proprietary firmware making it completely compatible with other Casambi enable devices.
CBM-002A/B is controlled wirelessly with Casambi smartphone and tablet applications using Bluetooth 4.0 protocol. Devices form automatically a self-healing and self-organizing wireless mesh network so that a large number of fixtures can be controlled from any point. No external gateway module is needed.
Note: We don't recommend CBM-002 for the new designs. Please use CBM-003 instead.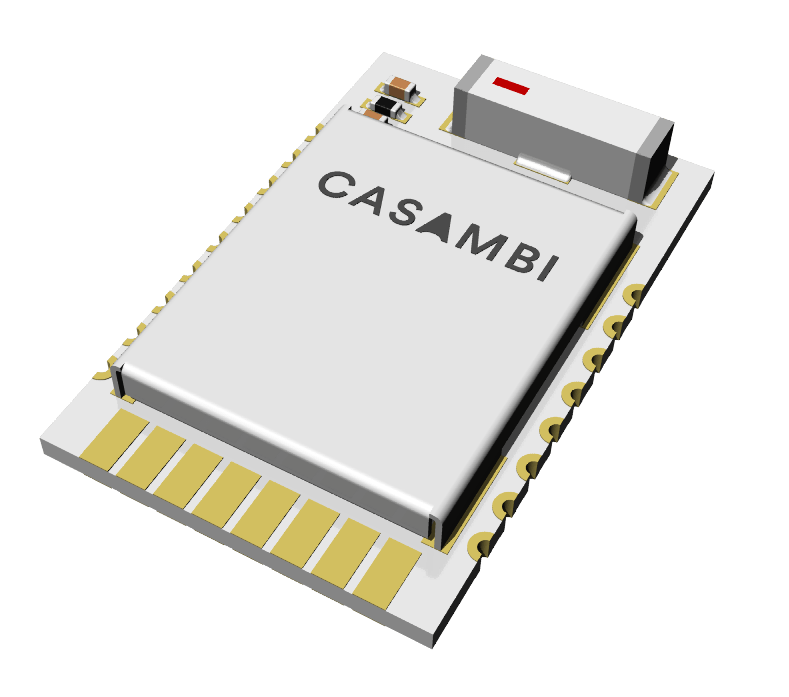 Product description
CBM-002A/B contains a powerful 32-bit ARM® Cortex™-M4 CPU and a 2.4 GHz transceiver with on-board antenna and optional matching circuitry. Different external components, such as motion detectors, ambient light sensors and PWM circuits, can be interfaced with the module by using its 12 general purpose I/O pins.
CBM-002A/B can be mounted both in horizontal and vertical position making it very versatile for projects with different form-factors.
Applications
LED drivers, single and multi-channel
Different lighting control applications
Light fixtures
Single and multicolor LED bulbs
Size
12.7 x 20.0 x 2.85 mm
Input/Output pins
12 pcs
Antenna
CBM-002 is available in two variants:
CBM-002A, that has a chip antenna
CBM-002B , that has a pin antenna
Mounting
both horizontal and vertical positions
Range
up to 50 m in open air