CBU-TED Bluetooth controllable dimmer
CBU-TED is a Bluetooth controllable, Casambi enabled trailing-edge dimmer for operation of incandescent lamps, dimmable LED lamps and dimmable LED control gear. It can be installed behind a traditional wall switch, inside a luminaire or into a ceiling outlet box. Maximum allowable ambient temperature must be observed.
Note! This product has reached the end of its product life cycle and will be replaced by the CBU-TED-LR.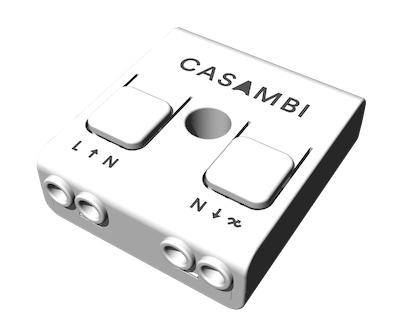 Wireless control
CBU-TED can be controlled with Casambi app, available for iOS and Android devices, as well as with traditional wall switches. The Casambi app can be downloaded free of charge from Apple App Store and Google Play Store.
Different Casambi enabled products can be used as a simple one luminaire direct control to a complete and full-featured light control system where up to 127 units (Classic) or 250 units (Evolution) form automatically an intelligent mesh network.
Dimming method
Trailing-edge phase control
Input
85-240 VAC 50-60 HZ
and
120 VAC 60 Hz
Output
Incandescent and high voltage halogen bulbs:
100 W @ 230 VAC
50 W @ 120 VAC
High voltage AC LED modules:
100 W @ 230 VAC
50 W @ 120 VAC
Dimmable LED and CFL bulbs:
100 W @ 230 VAC
50 W @ 120 VAC
Dimmable electronic transformers:
100 W @ 230 VAC
50 W @ 120 VAC
Max. output current:
0,43 A
Min. load requirement
1W
Max. inrush current
10 A, 100 ms
Dimensions
40,4 x 36,3 x 14,0 mm
Protection
IP20