CBU-A2D Bluetooth controllable 2ch 0-10V/DALI controller
CBU-A2D is a Bluetooth controllable, Casambi enabled 2 channel 0-10V/DALI controller. CBU-A2D has a universal 100-277 VAC input voltage range.
CBU-A2D can control one or two 0-10V controllable LED drivers, or it can control a tunable white LED driver with two 0-10V control interfaces. The product can also be configured into a DALI mode where it can be connected to a DALI LED driver or DALI sensor for the presence and/or daylight harvesting functions.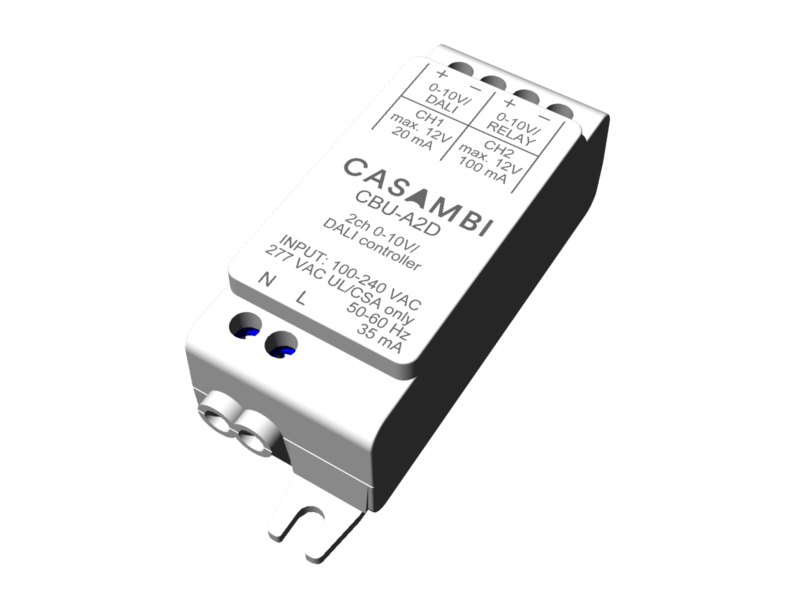 Product description
CBU-A2D can be controlled with Casambi app which can be downloaded free of charge from Apple App Store and Google Play Store.
Different Casambi enabled products can be used from a simple one luminaire direct control to a complete and full-featured light control system where up to 250 units form automatically an intelligent mesh network.
Features:
Casambi enabled 2 channel 0-10V/DALI controller
Universal 100- 277 VAC input voltage range
Control one or two 0-10V controllable LED drivers, or it can control a tunable white LED driver with two 0-10V control interfaces
The product can also be configured into a DALI mode where it can be connected to a DALI LED driver or DALI sensor for presence and/or daylight harvesting functions
Voltage Range
100-240 VAC (CE/UL/CSA)
277 VAC (UL/CSA only)
Frequency
50-60 Hz
Max. mains current
35 mA
No-load standby power
< 0,5 W
Channel 1 output
Output voltage, 0-10V 0-10 VDC, max. 7 mA (sinking)
Output voltage, DALI 12 VDC, max. 20 mA (sourcing)
Maximum number of drivers: 1 driver + 1 sensor/push button
Channel 2 output
Output voltage, 0-10V: 0-10 VDC, max. 7 mA (sinking)
Output voltage, relay control: 12 VDC, max. 100 mA (sourcing)
Maximum number of drivers: 1
Dimensions
76,0 x 26,0 x 23,0 mm
3.0 x 1.0 x 0.9 inch
ProtectionIP20
Built-in Class II